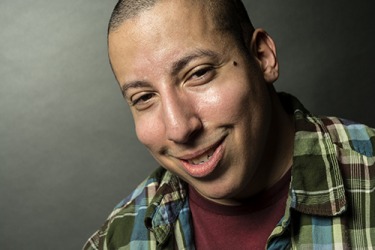 Carlos was easily recognizable because of the unique and salient mole on his temple.
adjective
The definition of salient is something that is very noticeable, jumps or is prominent.

An example of salient is a large dark mole on someone's forehead.
An example of salient is a key point in a proposal.
---
salient
leaping, jumping, or capering
gushing or jetting forth

pointing outward; jutting or projecting, as an angle
standing out from the rest; noticeable; conspicuous; prominent
most important or notable
Origin of salient
Classical Latin
saliens
, present participle of
salire
, to leap from Indo-European base an unverified form
sel-
, to jump from source Classical Greek
halma
, a leap
the part of a battle line, trench, fort, etc. which projects farthest toward the enemy
a salient angle, part, etc.
---
salient
adjective
Noteworthy; important: the salient points of the argument.
Prominent; conspicuous. See Synonyms at noticeable.
Projecting or jutting beyond a line or surface; protruding: the salient angles of the polygon.
Springing; jumping: salient tree toads.
noun
A military position that projects into the position of the enemy.
A projecting angle or part.
Origin of salient
Latin
saliēns
salient-
present participle of
salīre
to leap
; see
sel-
in Indo-European roots.
Related Forms:
---
salient

---