vanish

van·ish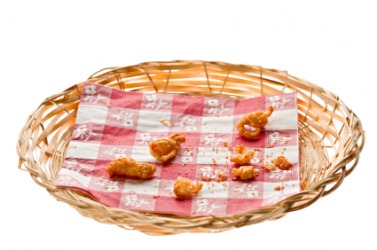 This plate of snacks has vanished.
verb
Vanish is defined as to disappear quickly.

An example of to vanish is for free food to disappear from a table in a room filled with college football players.
---
vanish
to go or pass suddenly from sight; disappear
to cease to exist; come to an end

Math.

to become zero
Origin of vanish
Middle English
vanissen,
aphetic from present participle stem of Old French
esvanir
from Vulgar Latin an unverified form
exvanire,
for Classical Latin
evanescere:
see evanesce
Phonet.
the faint last part of any of certain diphthongs, as the sound like a faint (?) ending the diphthong in
boy
---
vanish
intransitive verb
van·ished, van·ish·ing, van·ish·es
a.

To pass out of sight, especially quickly; disappear. See Synonyms at

disappear

.

b. To pass out of existence: when the dinosaurs vanished from the earth.

Mathematics To become zero. Used of a function or variable.
Origin of vanish
Middle English
vanisshen
alteration of
Old French
esvanir
esvaniss-
from
Vulgar Latin
exvanīre
alteration of
Latin
ēvānēscere
ē-, ex-
ex-
vānēscere
to vanish
(
from
vānus
empty
; see
euə-
in Indo-European roots.)
Related Forms:
---
vanish

Verb
(third-person singular simple present vanishes, present participle vanishing, simple past and past participle vanished)
Origin
Aphetic for obsolete evanish, from Middle English, from Old French esvanir, esvaniss- (French évanouir), Vulgar Latin evanescere, from vanus ("empty")
---