invisible

in·vis·i·ble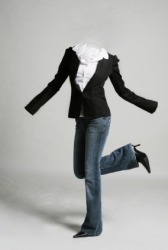 An invisible woman.
adjective
The definition of invisible is something that cannot be seen or someone who is ignored and treated as if he is not seen.

Ink that disappears so you cannot see it on the page is an example of invisible ink.
When you stand in line at the store and customers and staff ignore you and do not help you, this is an example of a time when you might be described as invisible.
---
invisible
not visible; that cannot be seen
out of sight; not apparent
too small or too faint to be seen; imperceptible
kept hidden: invisible assets
Origin of invisible
Old French from Classical Latin
invisibilis
an invisible thing or being
---
invisible
adjective
Impossible to see; not visible: Air is invisible.
Not accessible to view; hidden: mountain peaks invisible in the fog.
Not easily noticed or detected; inconspicuous: "The poor are politically invisible" ( Michael Harrington )
Not published in financial statements: an invisible asset.
noun
One that is invisible.
Related Forms:
in·vis′i·bil′i·ty in·vis′i·ble·ness

noun
---
invisible

Adjective
(not comparable)
Origin
From Old French invisible, from Latin invisibilis
---