poof

poof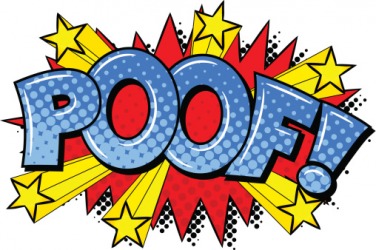 Poof!
interjection
Poof is defined as the sound made to show that something disappeared.

An example of poof is what is written when a character diappears in a picture book.
noun
The definition of a poof is a slang and offensive term for a feminine gay male.

A gay man who carries a handbag is an example of a poof.
---
poof
used to express suddenness of disappearance. appearance, etc.
pooh
Origin of poof
echoic of a sudden discharge
a male homosexual: a dismissive and, often, offensive term
---
poof
interjection
Used to indicate a sudden vanishing: The magician waved a wand, and poof! The birds disappeared!
Origin of poof
Imitative
noun
Offensive Slang
Used as a disparaging term for an effeminate man, especially an effeminate gay man.
Origin of poof
Probably alteration of
puff
braggart, gay man
from
puff
(influenced by
poof
1
)
---
poof

---