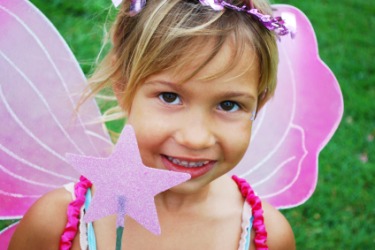 A little girl dressed as a fairy.
noun
The definition of a fairy is a tiny, magical, make-believe human-like creature with wings, or is an offensive slang term of contempt for a male homosexual.

An example of a fairy is Tinker Bell.
---
fairy
noun
pl.
fair′ies
Folklore

a being usually in human form and having magic powers, specif. one that is tiny, graceful, and delicate

Slang

a male homosexual: term of contempt or derision
Origin of fairy
ME, fairyland, fairy from Old French
faerie
from
fée
: see fay
of fairies
fairylike; graceful; delicate
---
fairy
noun
pl.
fair·ies
An imaginary being in human form, depicted as clever, mischievous, and possessing magical powers.
Offensive Slang Used as a disparaging term for a gay man.
Origin of fairy
Middle English
fairie
fairyland, enchanted being
from
Old French
faerie
from
fae
fairy
from
Vulgar Latin
Fāta
goddess of fate
from
Latin
fāta
the Fates
pl. of
fātum
fate
; see
fate
.
---
fairy

Origin
From Middle English fairie, from Old French faerie, the -erie abstract of fae, from Vulgar Latin Fāta ("goddess of fate"), from Latin fātum ("fate")
English from ca. 1300, first in the sense of "enchantment, illusion, dream" and later "realm of the fays, fairy-land" or "the inhabitants of fairyland as a collective". The re-interpretation of the term as a countable noun denoting individual inhabitants of fairy-land can be traced to the 1390s, but becomes common only in the 16th century.
---