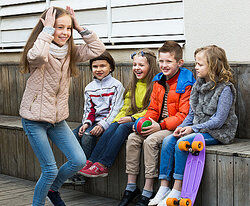 Having word lists available while playing charades will reduce the time it takes for kids to think of topics on their own and you can make sure the list is tailored to the age of the children. You can either give the children a list of items, words or phrases or help them brainstorm categories and words before they begin playing.
When making a word list for charades, it is best to think of some broad categories or themes and fill in age-appropriate words from there. Kids of all ages can enjoy a fun game of charades, but younger children might get frustrated if the words are too hard. The following categories contain lists of words that are ideal to use as inspiration for all age groups.
Making a list of words or phrases that reflect a specific activity is not only fun, but can also be simple for younger kids to act out. The following are some examples of activities that work well for charades:
Brushing teeth
Building a sandcastle
Dancing
Driving a car
Opening a gift
Playing baseball
Shoveling snow
Swimming
Skateboarding
Tying a shoe
Walking a dog
Yoga
Animals and insects are fun categories for charades. You can make a list of animals and insects that can cause some laughs and are easy to act out. Some examples to consider include:
Bumblebee
Bird
Cat
Cow
Dog
Fish
Giraffe
Horse
Monkey
Rabbit
Spider
Snake
Books are a good route to go down when making a charades word list for children. Just make sure that the title is easy to act out for the age group and the book is well-known among the children. Some ideas to consider for book titles are:
Alice's Adventures in Wonderland
Angelina Ballerina
Captain Underpants
Diary of a Wimpy Kid
Elephant and Piggie
Harry Potter and the Sorcerer's Stone
Holes
Princess Cupcake Jones and the Missing Tutu
The Cat in the Hat
The Giving Tree
The Gruffalo
The Lion, the Witch and the Wardrobe
The Very Hungry Caterpillar
Where the Wild Things Are
Adding in some fairy tales to the game of charades can be exciting for younger kids. Below are some popular fairy tales to add to your word list:
Beauty and the Beast
Chicken Little
Cinderella
Goldilocks and The Three Bears
Little Red Riding Hood
Rapunzel
Snow White and the Seven Dwarves
Sleeping Beauty
The Boy Who Cried Wolf
The Emperor's New Clothes
Depending on the age of children, adding in a list of famous figures, dead or alive, can make the game a little more interesting. The following are some famous people to consider:
Abraham Lincoln
Albert Einstein
Amelia Earhart
Barack Obama
George Washington
Isaac Newton
Neil Armstrong
Vincent van Gogh
Adding some famous places to your charade list can take the game to the next level. This category is definitely more suitable for older children. Some locations to include are:
Buckingham Palace
Eiffel Tower
Grand Canyon
Great Wall of China
Mount Everest
Mount Rushmore
Niagra Falls
Seattle Space Needle
Smokey Mountains
Statue of Liberty
Children of all ages can enjoy acting out a favorite food. Foods that are easy to demonstrate by eating a certain way are great to add to the list. Some ideas of foods to include in your word list are:
Banana
Bubblegum
French fries
Ice cream cone
Jello
Pizza
Popcorn
Sandwich
Spaghetti
Taco
Movie titles are another fun idea to consider for charades. Kids of all ages can enjoy acting out the title to a favorite or well-known movie. Some examples to consider are:
Babe
Bambi
Boss Baby
Cats and Dogs
Finding Nemo
Frozen
Home
Harry Potter and the Goblet of Fire
Moana
Pirates of the Caribbean
Spiderman
Superman
The Karate Kid
The Jungle Book
The Lego Movie
The Lion King
The Little Mermaid
Toy Story
Kids are sure to have a blast acting out a favorite song or pretending to be a singer. The following are some ideas to consider for songs and singers:
Bruno Mars
Justin Bieber
Katy Perry
Michael Jackson
Rihanna
Taylor Swift
Can't Stop the Feeling
Let it Go
Twinkle, Twinkle, Little Star
You are My Sunshine
An easy category for kids of all ages is sports. If you want to make it more challenging add in some famous athletes:
Archery
Baseball
Basketball
Football
Golf
Skiing
Soccer
Tennis
Serena Williams
Michael Jordan
Babe Ruth
Usain Bolt
Kids can have fun acting out a favorite TV show or character. Make sure you use a list of shows that are known by most kids and are not difficult to act out. Some ideas include:
American Idol
Bob the Builder
Curious George
Dora the Explorer
Go, Diego, Go
Lab Rats
Liv and Maddie
Sid the Science Kid
Spongebob Squarepants
The Wiggles
Before playing, giving each child the chance to write down ideas for each category (movies, television, books, music, etc.) will get them excited for the game. Another benefit to having younger children brainstorm the word list is that they will more easily remember the words. Remember to keep the charades ones that are fairly easy to act out and are well known. Anything too unusual will be difficult to act out and guess and the kids might become bored or frustrated.
Once you get a good list of words, playing the game is quite simple. Divide into teams to make it more competitive, or just take turns. One person picks a word or phrase (from those you just wrote down) to act out and the other players guess what they are acting.
As you can't speak, there are actions to mime that will give some clues. If the word or phrase is a book, put your hands together and unfold them like opening a book. To indicate a person, stand up with your hands on your hips. For a song, pretend to sing. For a movie, turn you hand in front of your face like operating an old-fashioned camera. For a TV show, draw a rectangle with your fingers. If it's a phrase hold up fingers to show the number of words. Put your finger and thumb close together to indicate a small word like "a" or "the;" move them far apart for a very long word. Touch you ear to indicate the word sounds like another, easier-to-act-out word.
Some examples of some easy charades to act out are:
Banana: the child can stand up and show it is a food by putting their hand towards their mouth. Next, they can pretend to peel down the sides of a banana then take an imaginary bite.
Swim: the child can use arm motions to mimic that of swimming strokes. They can also make a splashing motion to show water or waves.
Superman: the child can stand up with their hands on their hips to show it is a person. Then, they can put their hands out in front of them in a flying position. They can also make the letter "S" in the air or on their chest.
More Charades Lists and Game Ideas