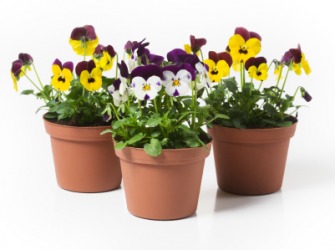 Potted pansies.
---
pansy definition by Webster's New World
noun
pl.
pansies
any of various violets, esp. a popular garden hybrid (Viola tricolor hortensis), with flat, broad, velvety petals in many colors
☆

Slang

an effeminate man; esp., an effeminate male homosexual: often a contemptuous term
Origin: French pensée, a thought ; from penser, to think ; from Classical Latin pensare: see pensive
Webster's New World College Dictionary Copyright © 2010 by Wiley Publishing, Inc., Cleveland, Ohio. Used by arrangement with John Wiley & Sons, Inc.
---
pansy definition by American Heritage Dictionary
noun
pl.
pan·sies
Any of various plants of the genera Achimenes or Viola, especially V. tricolor or its hybrids, having flowers with velvety petals of various colors.
A deep to strong violet.
Offensive Slang

a. Used as a disparaging term for a man or boy who is considered effeminate.

b. Used as a disparaging term for a homosexual man.
Origin: Middle English pancy, from Old French pensee, thought, remembrance, pansy, from feminine past participle of penser, to think; see pensive.