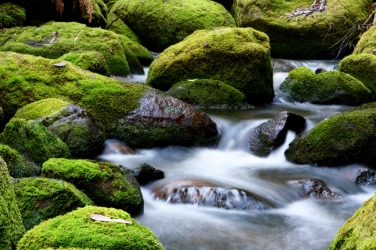 Moss covers the ground.
noun
Moss is a very small seedless plant that lives in moist places and grows in soft feathery patches.

An example of moss is the soft green plants that grow on the ground under a thick forest.
---
moss
any of various classes (esp. Bryopsida) of very small, green bryophytes having stems with leaflike structures and growing in velvety clusters on rocks, trees, moist ground, etc.
a growth of these

any of various similar plants, as some lichens and algae
Origin of moss
Middle English
mos
, a bog, moss from OE, a swamp, akin to Old Norse
mosi,
German
moos,
a bog, moss from Indo-European an unverified form
meus-
(from source Classical Latin
muscus,
moss) from base an unverified form
meu-,
moist
to cover with a growth of moss
---
moss
noun
a. Any of various green, usually small, nonvascular plants of the division Bryophyta, having leaflike structures arranged around the stem and spores borne in a capsule.

b. A patch or covering of such plants.

Any of various other unrelated plants having a similar appearance or manner of growth, such as Irish moss, Spanish moss, and the club mosses.
transitive verb
mossed, moss·ing, moss·es
To cover with moss.
Origin of moss
Middle English
from
Old English
mos
bog
and from
Medieval Latin
mossa
moss
(
of Germanic origin
)
---
moss

Noun
(computing) Acronym of MIME Object Security Services.
(software) Acronym of Map Overlay and Statistical System.
(software) Acronym of Microsoft Office SharePoint Server.
(trading) Acronym of Market Oriented Sector Selective talks.
---