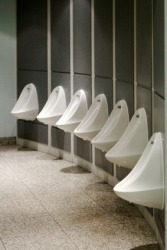 A row of urinals.
---
urinal
noun
a portable receptacle used for urinating, esp. by the bedridden
a place for urinating; specif., a fixture for use by men in urinating, esp. one installed in a men's restroom
Origin of urinal
Old French ; from Late Latin ; from
urinalis
, of urine ; from
urina
, urine
---
urinal
noun
a. A fixture, typically one attached upright to a wall, used by men for urinating.

b. A room or other place containing facilities for urinating.

A portable receptacle for urine.
Origin of urinal
Middle English,
chamber pot
, from Old French, from Late Latin
ūrīnāle
, from neuter of
ūrīnālis
,
pertaining to urine
, from Latin
ūrīna
,
urine
; see
urine
.
---
urinal
Noun
(plural urinals)
A porcelain, china, or stainless steel appliance, usually in male restrooms but in some places on the street, where males can stand, often side by side, to urinate.
(medicine) A vessel for holding urine; especially, a bottle into which bedridden male patients may urinate.
---