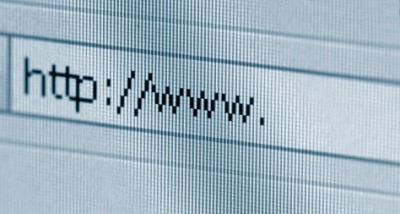 Where you would type in a URL.
abbreviation
The definition of URL is an acronym for Uniform Resource Locator, the address of a website on the Internet.

An example of a URL is http://www.yourdictionary.com
---
URL
an address () on the World Wide Web
Origin of URL
u(niform) r(esource) l(ocator)
---
URL
noun
An Internet address (for example, http://hmhbooks.com/eref/), usually consisting of the access protocol (http), the domain name (hmhbooks.com), and optionally the path to a file or resource residing on the server where the domain name resides (eref).
Origin of URL
u(niform) r(esource) l(ocator)
.
---
url - Computer Definition
(Uniform Resource Locator) The address that defines the route to a file on an Internet server (Web server, mail server, etc.). URLs are typed into a Web browser to access Web pages and files, and URLs are embedded within the pages themselves as links (see hypertext). The URL contains the protocol prefix, port number, domain name, subdirectory names and file name. If a port number is not stated in the address, port 80 is used as the default for Web traffic (HTTP traffic). See port 80 and TCP/IP port. Downloading the Home Page To access a home page on a Web site, only the protocol and domain name are required. For example, http://www.computerlanguage.com retrieves the home page of the Computer Language Company's Web site. HTTP is the Web protocol, and WWW.COMPUTERLANGUAGE.COM is the domain name. Browsers default to the http:// prefix so only the www.computerlanguage.com needs to be typed in. In fact, you can usually omit the WWW and dot, because most Web sites treat blank hostnames as "www" hostnames. Sometimes, you can even omit the .com, and the browser fills it in automatically. Another Web Page If a page is not the home page, its name has to be part of the address, and a slash is used to separate it from the domain name. For example http://www.computerlanguage.com/about.htm points to the About page (about.htm file). See URL shortening. The Full Path If a page is stored in a subdirectory (folder within a folder), its name is also separated by a slash, and subdirectories can be several levels deep. Follow the example below: Hypothetical URL: http://www.car.com/kia/used/2008.html This: Is the: http:// protocol www.car.com/ domain kia/ subdirectory used/ subdirectory 2008.html file (Web page)
Is It a URL or a URI?
Technically, a URL is a type of uniform resource identifier (URI). Since most URIs are URLs, "URL" is the term more commonly heard. See
URI
.
---
A type of uniform resource identifier (URI) that consists of a uniform address that both identifies an abstract or physical resource on the World Wide Web (WWW) and indicates how to locate it. As specified in IETF RFC 3986, the syntax follows a standard convention: scheme://authority/path?query#fragment Consider the example: http://info.cern.ch/hypertext/WWW/MarkUp/MarkUp.html where http = hypertext transport protocol and html = hypertext markup language. The method, or scheme name, indicates the network protocol used to assign identifiers. Examples of schemes include the following:
---