relative

rel·a·tive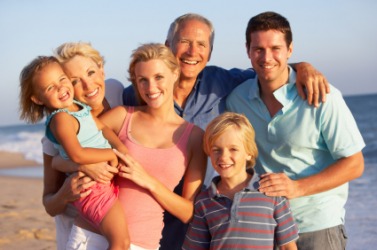 These people are all relatives.
adjective
Relative is defined as something connected, relevant or dependent on something else.

An example of relative is evidence in a court case.
An example of relative is calling six hours of sleep a good amount, after only getting four hours of sleep during many nights before.
noun
The definition of a relative is someone who is connected to another by blood, family or marriage.

An example of relative is a father-in-law.
---
relative
related each to the other; dependent upon or referring to each other: to stay in the same relative positions
pertinent; relevant: documents relative to a legal case
regarded in relation to something else; comparative: living in relative comfort
meaningful only in relationship; not absolute: "cold" is a relative term

Gram.

designating a word that introduces a dependent clause and refers to an antecedent: "which" is a relative pronoun in "the hat which you bought"
introduced by such a word: a relative clause
Origin of relative
from Middle French or L: Middle French
relatif
from Classical Latin
relativus
from Classical Latin
relatus:
see relate
a relative word, term, or thing
a person connected with another by blood, marriage, etc.; kinsman or kinswoman
a plant or animal in the same taxonomic division as another
relative to
relevant to; concerning; about
corresponding to; in proportion to
---
relative
adjective
Considered in comparison or relation to something else: an animal with a large brain relative to body size; the relative quiet of the suburbs.
Having pertinence or relevance; connected or related: How are those remarks relative to the discussion?
Grammar Referring to or qualifying an antecedent, as the pronoun who in the man who was on TV or that in the dictionary that I use.
Music Having the same key signature. Used of major and minor scales and keys: A minor is the relative minor of C major.
noun
a. A person related to another by heredity, adoption, or marriage.

b. A species or other taxon that shares a common ancestor, usually a relatively recent ancestor, with another: The jaguar is a relative of the lion.

Grammar A relative pronoun.
Origin of relative
Middle English
from
Old French
relatif
from
Late Latin
relātīvus
from
Latin
relātus
past participle of
referre
to relate
; see
relate
.
Related Forms:
---
relative

---
relative - Legal Definition
n
A person who is akin to another by virtue of blood; that is a blood relation, such as sister, brother, aunt, uncle, parent, child, and so on.
---