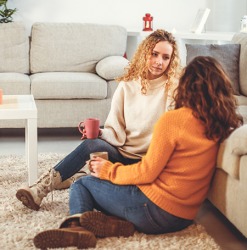 Paige could relate when her best friend lost her job because she was in the same situation a few months ago.
verb
To relate is defined as to have a connection to or tell the story of.

An example of to relate is someone expressing how busy they've been and their friend understands because they have also been very busy.
An example of to relate is someone telling another about the events of their day.
---
relate
transitive verb
-·lat′ed

,

-·lat′ing
to tell the story of or give an account of; narrate; recount
to connect or associate, as in thought or meaning; show as having to do with; show a relation between: to relate theory and practice
Origin of relate
from Classical Latin
relatus,
past participle of
referre,
to bring back: see refer
to have some connection or relation (to)
to show sympathetic understanding and awareness in one's personal relationships
to understand and sympathize or agree with someone or something: with to: I can't relate to what you're saying

to have reference (to)
---
relate
verb
re·lat·ed, re·lat·ing, re·lates
verb
transitive
To give an account of (an occurrence, for example); narrate. See Synonyms at describe.
To establish or demonstrate a connection between: I related his grumpiness to a lack of sleep.
verb
intransitive
To have connection, relation, or reference: how education relates to income; a question relating to foreign policy.
To have or establish a social relationship; interact: She relates well to her peers.
To understand or react favorably to someone or something: I just can't relate to these new fashions.
Phrasal Verbs:
relate back
Law
To treat as accomplished on an earlier date although actually done on a later date.
Origin of relate
Obsolete French
relater
from
Old French
from
Latin
relātus
past participle of
referre
re-
re-
lātus
brought
; see
telə-
in Indo-European roots.
Related Forms:
---
relate

Verb
(third-person singular simple present relates, present participle relating, simple past and past participle related)
Origin
From Latin relātus, perfect passive participle of referō ("carry back; report").
---