saturate

sat·u·rate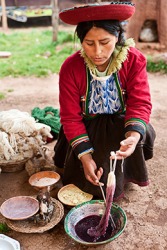 The Peruvian woman saturates the wool yarn with a natural purple dye in preparation for weaving colorful textiles.
verb
Saturate is to become totally soaked or filled, or to combine two substances to their maximum combining capacity.

When it rains for days and days and the soil becomes incredibly wet, this is an example of a time when the rain saturates the soil.
When a negligent power plant dumps toxic waste into the water and the water is contaminated with it, this is an example of a situation where the water is saturated with toxic waste.
When a company makes so many mp3 players that every single person has one and there is no more market for them, this is an example of a time when the company saturates the market.
---
saturate
transitive verb
-·rat·ed

,

-·rat·ing
to cause to be thoroughly soaked, imbued, or penetrated
to cause (something) to be filled, charged, supplied, etc. with the maximum that it can absorb

Chem.

to cause (a substance) to combine to the full extent of its combining capacity with another; neutralize
to dissolve the maximum amount of (a gas, liquid, or solid) in a solution at a given temperature and pressure
Origin of saturate
from Classical Latin
saturatus
, past participle of
saturare
, to fill up, saturate from
satur
, full; akin to
satis
: see sad
---
saturate
transitive verb
sat·u·rat·ed, sat·u·rat·ing, sat·u·rates
To soak or fill so that no more liquid may be absorbed: The cloth was saturated with water.
To supply with the maximum that can be held or contained; fill thoroughly: Pleasant smells saturated the bakery. The species had saturated its habitat. Happy memories saturated his mind. See Synonyms at imbue.
Chemistry To cause (a substance) to unite with the greatest possible amount of another substance.
Economics To supply (a market) with a good or service in an amount that consumers are able and willing to purchase.
adjective
Saturated.
Origin of saturate
Latin
saturāre
saturāt-
to fill
from
satur
sated
; see
sā-
in Indo-European roots.
Related Forms:
---
saturate

Verb
(third-person singular simple present saturates, present participle saturating, simple past and past participle saturated)
To cause to become completely penetrated, impregnated, or soaked (especially with a liquid).

Rain saturated their clothes.
After walking home in the driving rain, his clothes were saturated.

To satisfy the affinity of; to cause a substance to become inert by chemical combination with all that it can hold.

One can saturate phosphorus with chlorine.
Origin
From Latin saturatus, perfect passive participle of saturare ("to fill full"), from satur ("full").
---