condensation
con·den·sa·tion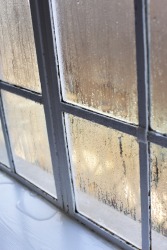 Condensation on a window.
noun
The definition of condensation is the act of shortening or reducing something to make it more concise.

Combining two images into one is an example of condensation.
A shortened version of a speech is an example of condensation.
An example of condensation is water droplets on a window that form when humid air comes into contact with a cold surface.
---
condensation
the act of condensing, as the reduction of a gas to a liquid or the abridgment of a piece of writing
the product of such an act: to read a condensation of a novel
the condition of being condensed
Origin of condensation
Late Latin
condensatio
---
condensation
noun
The act of condensing.
The state of being condensed.
An abridgment or shortening of something, especially of a written work or speech.
Physics

a. The process by which a gas or vapor changes to a liquid.

b. The liquid so formed.

Chemistry A chemical reaction in which water or another simple substance is released by the combination of two or more molecules.
Psychology The process by which a single symbol or word is associated with the emotional content of several, not necessarily related, ideas, feelings, memories, or impulses, especially as expressed in dreams.
Related Forms:
con′den·sa′tion·al

adjective
---
condensation

---