gauze

gauze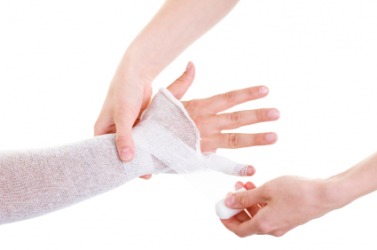 An arm being wrapped in gauze.
noun
The definition of gauze is a thin, loosely woven material.

An example of gauze is the material used for dressing cuts.
---
gauze
any very thin, light, transparent, loosely woven material, as of cotton or silk
any similar but stiff material, as of thin wire
a thin mist
Origin of gauze
French
gaze
from Spanish
gasa
from Arabic
?azz
, raw silk from Persian
käž
---
gauze
noun
a. A thin, transparent fabric with a loose open weave, used for curtains and clothing.

b. A thin, loosely woven surgical dressing, usually made of cotton.

c. A thin plastic or metal woven mesh.

A mist or haze.
Origin of gauze
French
gaze
ultimately
(
perhaps via
Spanish
gasa
)
from
Arabic
qazz
raw silk
of Middle Persian origin
Persian
kaž
bent, crooked, low-quality silk
---
gauze

Verb
(third-person singular simple present gauzes, present participle gauzing, simple past and past participle gauzed)
To apply a dressing of gauze
To mist
---