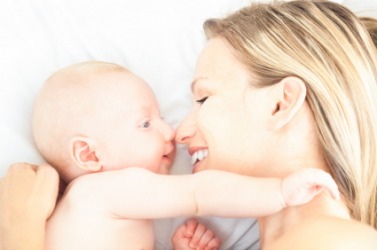 A mother gazes with love at her child.
noun
The definition of a gaze is a steady and intense look.

When someone stares at you for a long period of time, the look they are giving you is an example of a gaze.
verb
To gaze is defined as to stare or look at something with a steady look.

When you stare dreamily into your lover's eyes for long periods of time, this is an example of gaze.
---
gaze
intransitive verb
gazed

,

gaz′ing
to look intently and steadily; stare, as in wonder or expectancy
Origin of gaze
Middle English
gazen
from Scand, as in Norwegian and Swedish dialect, dialectal
gasa
, to stare from Old Norse
gas
, goose
---
gaze
intransitive verb
gazed, gaz·ing, gaz·es
To look steadily, intently, and with fixed attention.
noun
A steady, fixed look.
Origin of gaze
Middle English
gasen
probably of Scandinavian origin
Related Forms:
---
gaze

Verb
(third-person singular simple present gazes, present participle gazing, simple past and past participle gazed)
(intransitive) To stare intently or earnestly.

In fact, for Antonioni this gazing is probably the most fundamental of all cognitive activities ... (from Thinking in the Absence of Image)

Bible, Acts i. 11

Why stand ye gazing up into heaven?

(poetic) To stare at.

1667: Strait toward Heav'n my wondring Eyes I turnd, / And gaz'd a while the ample Skie — John Milton, Paradise Lost (book VIII)
Origin
Akin to Swedish dial. gasa and Gothic (usgasjan, "to terrify").
---