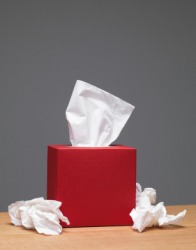 A box of tissues.
noun
The definition of tissue is group of cells, or an absorbent paper, or thin paper used for wrapping gifts.

All of the soft joints and ligaments in your neck are an example of neck tissue.
A Kleenex is an example of a tissue.
A thin piece of bright red paper used to wrap fragile gifts is an example of tissue paper.
---
tissue
cloth; esp., light, thin cloth, as gauze
an interwoven or intricate mass or series; mesh; network; web: a tissue of lies
a piece of soft, absorbent paper, used as a disposable handkerchief, as toilet paper, etc.

tissue paper
a sheet of tissue paper

Biol.

the substance of an organic body or organ, consisting of cells and intercellular material
any of the distinct structural materials of an organism, having a particular function: epithelial tissue
Origin of tissue
Middle English
tissu
, rich cloth from Old French from past participle of
tistre
, to weave from Classical Latin
texere
, to weave: see text
transitive verb
-·sued

,

-·su·ing
to cover with tissue

Archaic

to weave into tissue
---
tissue
noun
A fine, very thin fabric, such as gauze.
Tissue paper.
A soft, absorbent piece of paper used as toilet paper, a handkerchief, or a towel.
An interwoven or interrelated number of things; a web; a network: "The text is a tissue of mocking echoes" ( Richard M. Kain )
Biology An aggregation of morphologically similar cells and associated intercellular matter acting together to perform one or more specific functions in an organism. There are four basic types of tissue in many animals: muscle, nerve, epidermal, and connective.
Origin of tissue
Middle English
tissu
a rich kind of cloth
from
Old French
from past participle of
tistre
to weave
from
Latin
texere
; see
teks-
in Indo-European roots.
Related Forms:
---
tissue

Noun
(plural tissues)
A fine transparent silk material, used for veils, etc.; specifically, cloth interwoven with gold or silver threads, or embossed with figures.
A sheet of absorbent paper, especially one that is made to be used as tissue paper, toilet paper or a handkerchief.
Absorbent paper as material.
(biology) A group of similar cells that function together to do a specific job
Web; texture; complicated fabrication; connected series.

a tissue of forgeries, or of lies
Verb
(third-person singular simple present tissues, present participle tissuing, simple past and past participle tissued)
To form tissue of; to interweave.

Covered with cloth of gold tissued upon blue. "" Francis Bacon.
Origin
From Old French tissu, past participle of tistre, from Latin texere.
---