smog

smog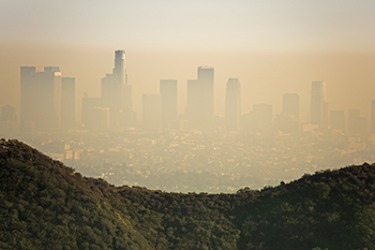 The sea to mountain high-pressure systems can trap the smog in the city of Los Angeles in California.
noun
Smog is a mix of fog and smoke, or a layer of polluted air.

An example of smog is a low-lying yellow or brown layer of air.
---
smog
Archaic

a noxious mixture of fog and smoke
a low-lying, perceptible layer of polluted air
Origin of smog
sm(oke) + (f)og
---
smog
noun
Fog that has become mixed and polluted with smoke.
A form of air pollution produced by the photochemical reaction of sunlight with hydrocarbons and nitrogen oxides that have been released into the atmosphere, especially by automotive emissions.
Origin of smog
sm(oke)
(f)og
1
Related Forms:
---
smog

Verb
(third-person singular simple present smogs, present participle smogging, simple past and past participle smogged)
(informal) To get a smog check; to check a vehicle or have it checked for emissions.

If the car is more than five years old, you'll have to have it smogged before you can register it.
---