pollution

pol·lu·tion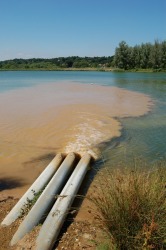 Waste being dumped into this water has created pollution.
noun
Pollution is something introduced into the environment that is dirty, unclean or has a harmful effect.

Toxic waste dumped into the water is an example of pollution.
---
pollution
noun
The act or process of polluting or the state of being polluted, especially the contamination of soil, water, or the atmosphere by the discharge of harmful substances.
Something that pollutes; a pollutant or a group of pollutants: Pollution in the air reduced the visibility near the airport.
---
pollution

Origin
Recorded since c.1340, as "discharge of semen other than during sex," later, "desecration, defilement" (1382), from Late Latin pollutio "defilement," from Latin polluere "to soil, defile, contaminate", itself from por- "before" + -luere "to smear" (related to lutum "mud" and to lues "filth", compare Greek (lyma) "filth, dirt, disgrace" and (lymax) "rubbish, refuse," Old Irish loth "mud, dirt," Lithuanian lutynas "pool, puddle"). Meaning "make physically foul" is from 1540s. Sense of "contamination of the environment" first recorded c.1860, but not common until c.1955
---