nebula

neb·u·la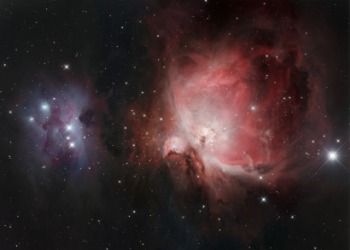 The Orion Nebula.
noun
The definition of a nebula is a cloud of gas and dust in outer space.

A mass of dust in the sky that reflects light and appears as darkness in the sky may be an example of a nebula.
---
nebula
noun
pl.

-·lae·

or

-·las
a cloud of interstellar gas or dust: formerly, applied to any hazy, distant celestial object, as a star cluster or an external galaxy

Med.

a small, cloudy opacity on the cornea
a liquid preparation used as a spray
Origin of nebula
Modern Latin from L, vapor, fog, mist from Indo-European base an unverified form
nebh-
, moist, vapor, cloud from source Classical Greek
nephos, nephel?
, cloud, Old English
nifol
, mist, darkness
---
nebula
noun
pl.
neb·u·lae,
or
neb·u·las
Astronomy

a. A diffuse cloud of interstellar dust or gas or both, visible as luminous patches or areas of darkness depending on the way the mass absorbs or reflects incident light or emits its own light.

b. A galaxy. No longer in technical use.

Medicine

a. A cloudy spot on the cornea.

b. A liquid preparation for use in a nebulizer.
Origin of nebula
Middle English
nebule
cloud, mist
from
Latin
nebula
; see
nebh-
in Indo-European roots.
Related Forms:
nebula
the Crab Nebula, photographed by the Hubble Space Telescope in 2005
---
nebula

Noun
(plural nebulae or nebulas)
(astronomy) A cloud in outer space consisting of gas or dust (e.g. a cloud formed after a star explodes).
Origin
From Latin nebula ("little cloud", "mist"). Akin to Greek νεφέλη, "cloud", German Nebel, "mist", "nebula", Old Norse nifl.
---