galaxy

gal·ax·y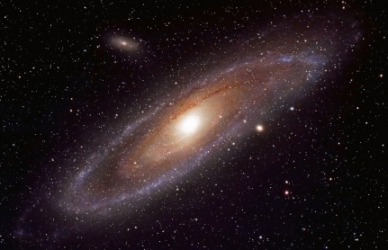 The Andromeda Galaxy.
noun
The definition of a galaxy is a large area, particularly of dust, stars and gas that makes up a universe.

An example of a galaxy is the Milky Way.
---
galaxy
noun
pl.
[usuallyG-] the Milky Way: often with the
a large, independent system of stars, typically containing millions to hundreds of billions of stars: the four classes of galaxies are spiral, barred spiral, elliptical, or irregular, depending on their shape

an assembly of brilliant or famous people
a brilliant array of things
Origin of galaxy
Middle English
galaxie
from Late Latin
galaxias
from Gr, Milky Way from
gala
, milk: see galactic
---
galaxy
noun
pl.
gal·ax·ies
Astronomy

a. Any of numerous large-scale aggregates of stars, gas, and dust that constitute the universe, containing an average of 100 billion (1011) solar masses and ranging in diameter from 1,500 to 300,000 light-years.

b. often Galaxy The Milky Way.

An assembly of brilliant, glamorous, or distinguished persons or things: a galaxy of theatrical performers.
Origin of galaxy
Middle English
galaxie
the Milky Way
from
Late Latin
galaxiās
from
Greek
from
gala
galakt-
milk
; see
melg-
in Indo-European roots.
---
galaxy

Noun
(plural galaxies)
(now rare) The Milky Way; the apparent band of concentrated stars which appears in the night sky over earth. [from 14th c.]
Origin
From Old French galaxie, from Latin galaxias, from Ancient Greek γαλαξίας (galaxías, "Milky Way"), from γάλα (gala, "milk").
Proper noun
(astronomy, dated) the Milky Way Galaxy, from when it was thought the Universe (our universe) had only one galaxy
---
galaxy - Computer Definition
---