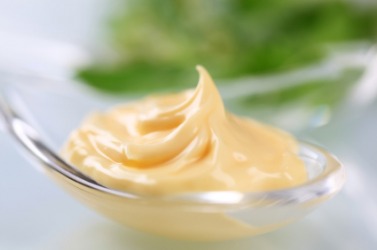 Mayonnaise is a colloid.
noun
The definition of a colloid is a combination of molecules mixed through other substances that will not settle out or join with the other substance.

Mayonnaise and blood are both examples of colloids.
---
colloid
a solid, liquid, or gaseous substance made up of very small, insoluble particles (as single large molecules or masses of smaller molecules) that remain in suspension in a surrounding solid, liquid, or gaseous medium of different matter
a state of matter consisting of such a substance dispersed in a surrounding medium: all living matter contains colloidal material, and a colloid has only a negligible effect on the freezing point, boiling point, or vapor pressure of the surrounding medium

the iodine-containing, gelatinous protein stored in the thyroid
Origin of colloid
from Classical Greek
kolla,
glue + -oid; coined by T. Graham (1805-69), Scottish chemist
---
colloid
noun
Chemistry

a. A system in which finely divided particles, which are approximately 1 to 1,000 millimicrons in size, are dispersed within a continuous medium in a manner that prevents them from being filtered easily or settled rapidly.

b. The particulate matter so dispersed.

The gelatinous stored secretion of the thyroid gland, consisting mainly of thyroglobulin.
Gelatinous material resulting from degeneration in diseased tissue.
adjective
Of, relating to, containing, or having the nature of a colloid.
Related Forms:
---
colloid

Adjective
(comparative more colloid, superlative most colloid)
Glue-like; gelatinous.

colloid tumours
Noun
(plural colloids)
(chemistry) A stable system of two phases, one of which is dispersed in the other in the form of very small droplets or particles.
(meteorology) An intimate mixture of two substances one of which, called the dispersed phase (colloid), is uniformly distributed in a finely divided state throughout the second substance, called the dispersion medium (dispersing medium). The dispersion medium may be a gas, a liquid, or a solid, and the dispersed phase may also be any of these, with the exception that one does not speak of a colloidal system of one gas in another. A system of liquid or solid particles colloidally dispersed in a gas is called an aerosol. A system of solid substances or water-insoluble liquids colloidally dispersed in liquid water is called a hydrosol.
Origin
From French colloïde, from Ancient Greek κόλλα (kolla, "glue") + -oid.
---