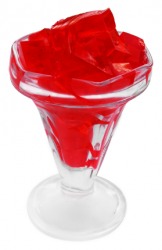 A gelatinous dessert.
adjective
The definition of gelatinous is something with a jelly-like consistency.

Jello is an example of something that would be described as gelatinous.
---
gelatinous
of or containing gelatin
like gelatin or jelly; having the consistency of gelatin or jelly; viscous
---
gelatinous
adjective
Resembling gelatin; viscous.
Of, relating to, or containing gelatin.
Related Forms:
---
gelatinous

---