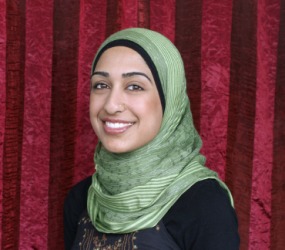 A woman wearing hijab.
---
hijab definition by American Heritage Dictionary
noun
The headscarf worn by Muslim women, sometimes including a veil that covers the face except for the eyes.
The veiling or seclusion of women in some Islamic societies, customarily practiced in order to maintain standards of modesty.
Origin: Arabic ḥijāb, curtain, veil, from ḥajaba, to cover; see ḥgb in Semitic roots.