cap and gown
cap and gown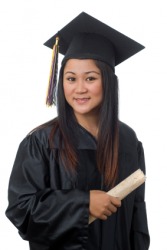 A graduate wearing her cap and gown.
noun
The definition of cap and gown is the traditional outfit worn by graduates, consisting of a stiff hat and a solid colored robe in school colors.

An example of cap and gown is what a person wears when he gets his college diploma at graduation.
---
cap and gown
traditional academic garb featuring a mortarboard (sense ) and a long robe, worn at some ceremonies, as commencement, and often used to symbolize the academic life
---