noun
The definition of a livery is a particular uniform or a design, or the act of maintaining horses.

An example of a livery is the uniform of the army.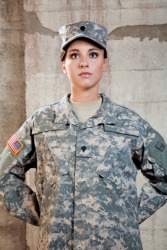 The livery of a U.S. soldier.
---
livery definition by Webster's New World
noun
pl.
liveries
an identifying uniform such as was formerly worn by feudal retainers or is now worn by servants or those in some particular group, trade, etc.
the people wearing such uniforms
characteristic dress or appearance

the keeping and feeding of horses for a fixed charge
the keeping of horses, vehicles, or both, for hire
☆ livery stable

☆ a place where boats can be rented

Eng. Law, Historical

the legal delivery of property, esp. landed property, into the hands of the new owner
Origin: Middle English allowance of food, gift of clothes to a servant, thing delivered ; from Old French livree, past participle of livrer, to deliver ; from Classical Latin liberare, to liberate
Webster's New World College Dictionary Copyright © 2010 by Wiley Publishing, Inc., Cleveland, Ohio. Used by arrangement with John Wiley & Sons, Inc.
---
livery definition by American Heritage Dictionary
noun
pl.
liv·er·ies
A distinctive uniform worn by the male servants of a household.
The distinctive dress worn by the members of a particular group; uniform: ushers in livery.
The costume or insignia worn by the retainers of a feudal lord.

a. The boarding and care of horses for a fee.

b. The hiring out of horses and carriages.

c. A livery stable.

A business that offers vehicles, such as automobiles or boats, for hire.
Law Official delivery of property, especially land, to a new owner.
Origin: Middle English liveri, from Old French livree, delivery, from feminine past participle of livrer, to deliver, from Latin līberāre, to free, from līber, free; see leudh- in Indo-European roots.