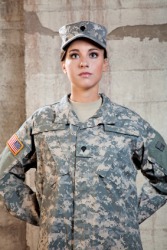 The livery of a U.S. soldier.
noun
The definition of a livery is a particular uniform or a design, or the act of maintaining horses.

An example of a livery is the uniform of the army.
---
livery
noun
pl.
-·er·ies
an identifying uniform such as was formerly worn by feudal retainers or is now worn by servants or those in some particular group, trade, etc.
the people wearing such uniforms
characteristic dress or appearance

the keeping and feeding of horses for a fixed charge
the keeping of horses, vehicles, or both, for hire
livery stable

a place where boats can be rented

Historical, Eng. Law

the legal delivery of property, esp. landed property, into the hands of the new owner
Origin of livery
ME, allowance of food, gift of clothes to a servant, thing delivered from Old French
livree
, past participle of
livrer
, to deliver from Classical Latin
liberare
, to liberate
---
livery
noun
pl.
liv·er·ies
A distinctive uniform worn by the male servants of a household.
The distinctive dress worn by the members of a particular group; uniform: ushers in livery.
The costume or insignia worn by the retainers of a feudal lord.

a. The boarding and care of horses for a fee.

b. The hiring out of horses and carriages.

c. A livery stable.

A business that offers vehicles, such as automobiles or boats, for hire.
Law Official delivery of property, especially land, to a new owner.
Origin of livery
Middle English
liveri
from
Old French
livree
delivery
from
feminine past participle of
livrer
to deliver
from
Latin
līberāre
to free
from
līber
free
; see
leudh-
in Indo-European roots.
---
livery

Noun
(plural liveries)
Any distinctive identifying uniform worn by a group, such as the uniform worn by chauffeurs and male servants.
The paint scheme of a vehicle or fleet of vehicles.

The airline's new livery received a mixed reaction from the press.

(law) The delivery of property from one owner to the next.
(law) The writ by which property is obtained.
(historical) The rental of horses or carriages; the rental of canoes; the care and/or boarding of horses for money.
An allowance of food; a ration, as given out to a family, to servants, to horses, etc.
Release from wardship; deliverance.
A low grade of wool.
Verb
(third-person singular simple present liveries, present participle liverying, simple past and past participle liveried)
(archaic) To clothe in.

He liveried his servents in the most modest of clothing
Origin
From Anglo-Norman liveree, from Old French livree. Compare modern French livrer.
---