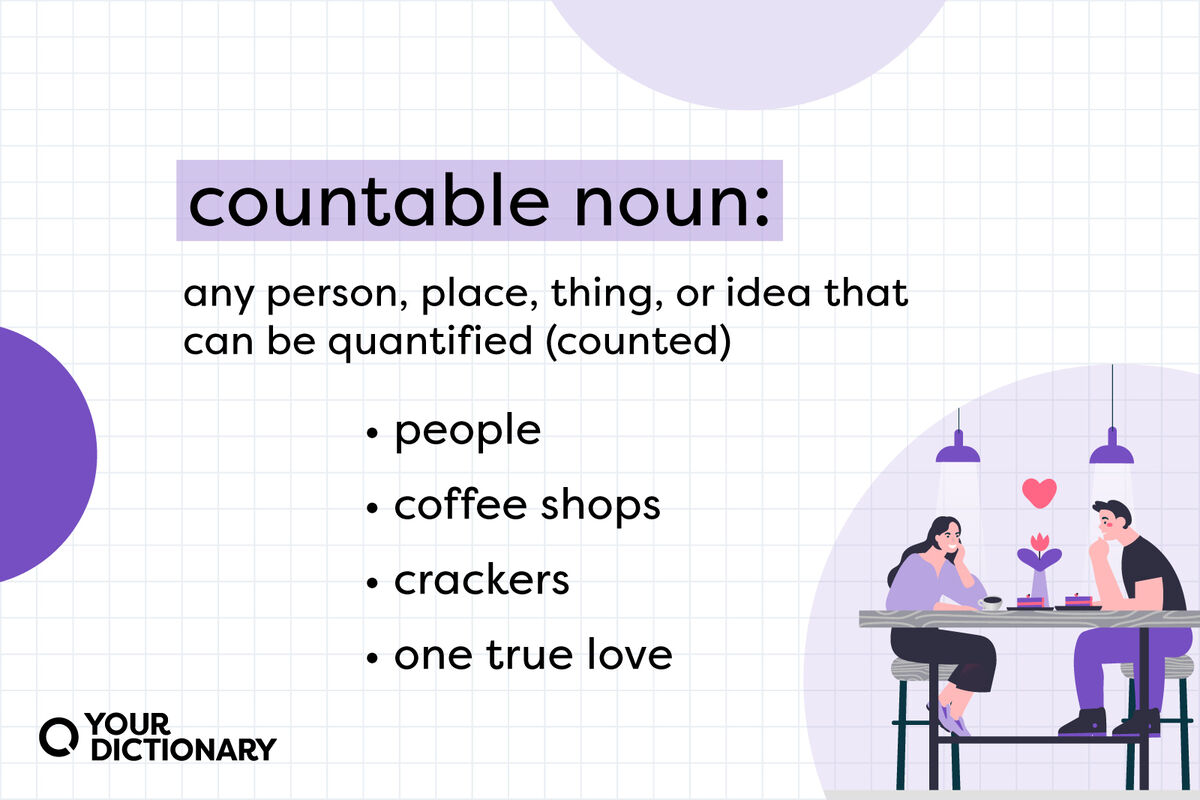 Countable nouns are everywhere, whether you're counting tires on a car, clouds in the sky, or candles on a cake. (Just don't add too many candles to that cake — you might hurt some feelings or start a fire.) But what makes a noun countable, and how are they different from uncountable nouns?
What Is a Countable Noun?
A countable noun is a person, place, thing, or idea that you can count the amount of. They can be singular (only one noun) or plural (more than one noun). For example:
| | |
| --- | --- |
| Singular Countable Nouns | Plural Countable Nouns |
| cookie | cookies |
| kitten | kittens |
| man | men |
| river | rivers |
| artist | artists |
| office | offices |
| park | parks |
| belief | beliefs |

When a countable noun is singular, it uses a singular verb for subject-verb agreement (The cookie is mine). When the countable noun is plural, it uses a plural verb (Those cookies are mine).
Using Determiners With Countable Nouns
Countable nouns can use determiners to indicate how many of them are. These determiners can be articles (the, a, or an), numbers (one, nine, six hundred), or other determiners (some, a few, many).
one cookie
many kittens
four men
a river
an artist
two offices
the park
a few beliefs
Countable vs. Uncountable Nouns
Uncountable nouns are nouns that can't be counted (hence the name). They take only a singular form in grammar, so they always use singular verbs. Common uncountable nouns include water, independence, air, milk, happiness, and luggage. 
Unlike countable nouns, you can't use quantitative determiners with uncountable nouns. Many milk or an independence doesn't make sense.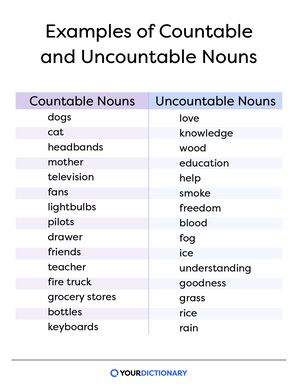 Examples of People as Countable Nouns
When you use common nouns to describe people, they're considered countable nouns.
Many teachers prefer working in teams.
Four firefighters ran into the house.
Some people really like living in the city.
The police officer turned on her car's siren.
Ten trick-or-treaters knocked on the door.
Examples of Places as Countable Nouns
Many common places (not proper nouns for places, which describe a specific place) can also be countable nouns. 
There are two coffee shops near my house.
Does your house have a library?
We traveled to six different countries on our trip.
They're building a bowling alley down the street.
Is there a bathroom nearby?
Examples of Things as Countable Nouns
Many nouns that describe things are countable. These countable nouns include both common nouns and some proper nouns (such as three Hondas or an iPhone) when referring to a noun as a brand name.
Can you hand me a pencil?
Please share the crackers with everyone.
Look at the pigeons across the street.
I bought a car last February.
Pedro brought Oreos to the party.
Examples of Ideas as Countable Nouns
Most ideas are abstract nouns, meaning that you can't see, hear, touch, smell, or taste them. That makes most ideas uncountable — but not all of them. If you can put a or an in front of the singular version of these nouns and it sounds right, they're countable.
We have many hopes and dreams for the future.
The president holds several executive powers, including the power to veto legislation.
Edward has several talents.
Stay true to your principles; they will guide you well.
I've only had one true love in my life.
Are Collective Nouns Countable?
While countable nouns can include most types of nouns, it gets a little tricky when discussing collective nouns. Collective nouns describe a group of people or things, such as a team, a committee, or a herd. Grammatically, they use a singular verb, but they describe more than one noun.
But are collective nouns countable? The answer is yes — because you can have many teams, some committees, and several herds. You may not know how many players are in each group, but the group itself is countable.
Which of the bolded nouns in these sentences are countable nouns, and which of them are uncountable? (Remember, if it can be plural or singular, it's countable.)
How many rabbits live in the meadow?
Add two scoops of flour to the bowl.
Let's order two pizzas, just in case.
I've got a headache, so I'm not coming tonight.
We're enjoying the sunshine on our island vacation.
My teacher assigns so much homework.
Do you really need ten pillows on the couch?
Rachel earned ten dollars. That's a lot of money!
Answer Key for Countable Noun Quiz
See if you found all the countable nouns in the sentences. 
How many rabbits live in the meadow? (Countable)
Add two scoops of flour to the bowl. (Uncountable)
Let's order two pizzas, just in case. (Countable)
I've got a headache, so I'm not coming tonight. (Countable)
We're enjoying the sunshine on our island vacation. (Uncountable)
My teacher assigns so much homework. (Uncountable)
Do you really need ten pillows on the couch? (Countable)
Rachel earned ten dollars. That's a lot of money! (dollars is Countable; money is Uncountable)