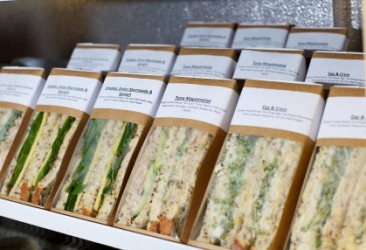 A row of ready-made sandwiches.
adjective
The definition of ready made is something that has already been created, as opposed to something made to order.

An example of ready-made is a pre-wrapped sandwich you pick up from the store instead of a sandwich from a sandwich shop where you get to specify the sandwich ingredients.
---
ready-made
made so as to be ready for use or sale at once; not made-to-order: ready-made suits
commonplace; stock: ready-made opinions
conveniently available and suitable: no ready-made solutions to difficult social problems
something that is ready-made

Origin of ready-made

origin, originally Readymades, plural n., as used in a passage in French (1915) by Marcel Duchamp

Art

an ordinary, usually mass-produced object displayed as a work of art; also, a composition consisting of more than one such object
---
ready-made
or read·y·made
adjective
Already made, prepared, or available: ready-made clothes.
Handy or expedient, especially because of familiarity, frequent use, or preplanning: a raft of ready-made excuses.
---
ready-made

---