ripe

ripe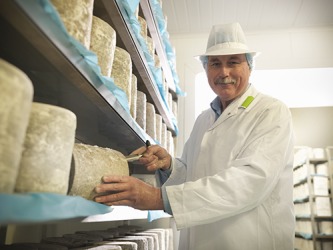 Various types of cheeses require different amounts of time to become fully ripe.
adjective
The definition of ripe is something fully grown or ready to be eaten, used or implemented.

An example of ripe is a soft avocado.
An example of ripe is a cheese that has obtained its final flavor and texture.
An example of ripe is being fully prepared for something such as to be ripe for a vacation.
---
ripe
adjective
rip′er

,

rip′est
fully grown or developed; specif., ready to be harvested and used for food, as grain or fruit
like ripe fruit, as in being ruddy and full: ripe lips
sufficiently advanced, as by being kept in storage or subjected to treatment, to be ready for use: ripe wine, ripe cheese
fully or highly developed by study, experience, etc.; mature as in judgment, knowledge, etc.: ripe wisdom

characterized by full physical or mental development: a person of ripe years
advanced in years: the ripe age of ninety

ready to do, receive, or undergo something; fully prepared: ripe for marriage
ready for some operation, treatment, or process: a boil ripe for lancing
sufficiently advanced; far enough along (for some purpose): said of time
having a strong, unpleasant smell
Origin of ripe
OE, akin to reap
---
ripe
adjective
rip·er, rip·est
Fully developed; mature: ripe peaches.
Sufficiently advanced in preparation or aging to be used or eaten: ripe cheese.
Thoroughly matured, as by study or experience; seasoned: ripe judgment.
Advanced in years: the ripe age of 90.
Fully prepared to do or undergo something; ready: "By 1965 the republic was ripe for a coup" ( Alex Shoumatoff )
Sufficiently advanced; opportune: The time is ripe for great societal changes.
Sensuous and full: ripe lips.
Coarse or indecent; vulgar: the comic's ripe language.
Emitting a foul odor: "the dirt and stench … the mountains of ripe bushmeat in every camp" ( Bryan Mealer )
Origin of ripe
Middle English
from
Old English
rīpe
Related Forms:
---
ripe

Adjective
(comparative riper, superlative ripest)
Ready for reaping or gathering; having attained perfection; mature; -- said of fruits, seeds, etc.; as, ripe grain.
(figuratively) Having attained its full development; mature; perfected; consummate.
(archaic) Maturated or suppurated; ready to discharge; -- said of sores, tumors, etc.
Ready for action or effect; prepared.
Like ripened fruit in ruddiness and plumpness.
(law) Of a conflict between parties, having developed to a stage where the conflict may be reviewed by a court of law.
Noun
(plural ripes)
(agriculture) A fruit or vegetable which has ripened.
Verb
(third-person singular simple present ripes, present participle riping, simple past and past participle riped)
Origin
From Old English rÄ«pe, from Proto-Germanic *rÄ«pijaz, from Proto-Indo-European *h₁rep- "˜to snatch'. Cognate with West Frisian ryp ("ripe"), Dutch rijp ("ripe"), German reif ("ripe"). Related to reap.
---
ripe - Computer Definition

Stands for Réseaux IP Européens and is one of the five regional bodies that administer the IP Address space. RIPE is set up as a collaboration between the European operators of IP networks.
---