poised

poised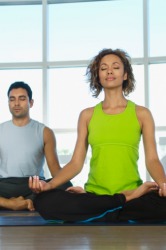 Felicia looks poised as she sits in Lotus Pose.
adjective
The definition of poised is a calm and assured person.

An example of poised is someone sitting quietly in the lotus position.
---
poised
composed; calm; self-assured
balanced
suspended, as in motion; readied: an opponent poised to strike
---
poised
adjective
Assured; composed.
Held balanced or steady in readiness: stood poised for the jump.
---
poised

Adjective
(comparative more poised, superlative most poised)
Possessing poise, having self-confidence.
Ready, prepared.

He stood there, poised to act, and then suddenly he drew his gun in a smooth arc.
---