self contained
self-con·tained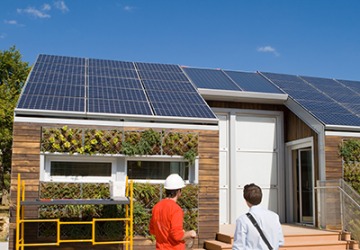 The homeowners are installing solar panels and a garden system so they can become more self contained and rely less on outside resources.
adjective
The definition of self contained refers to something or someone that is complete on its own and that doesn't need anything else.

An example of self contained is an all-in-one stereo system that has the speakers, wire and receiver and doesn't need anything else.
An example of self contained is a person totally content with his own company and not needy for the love, company or support of others.
---
self-contained
keeping one's affairs to oneself; reserved
showing self-command or self-control
having all working parts, complete with motive power, in an enclosed unit: said of machinery
having within oneself or itself all that is necessary; self-sufficient, as a community
---
self-contained
adjective
Constituting a complete and independent unit in and of itself: A self-contained dictionary defines every word contained within it.

a. Not dependent on others; self-sufficient: a self-contained settlement in the Arctic.

b. Keeping to oneself; reserved.
Related Forms:
---
self-contained

Adjective
(comparative more self-contained, superlative most self-contained)
Not requiring external or additional support; complete in itself.

a self-contained apartment
a self-contained classroom
---