self conscious
self-con·scious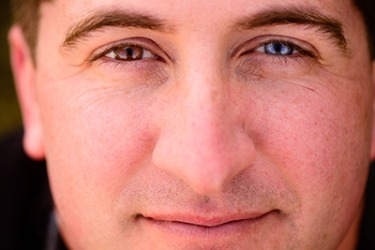 Dean used to be self conscious of his eyes when he was younger but now he doesn't mind the color difference called Heterochromia Iridum because it's unique.
adjective
The definition of self conscious is a person who is overly concerned about his own actions and appearance and with what others think of him.

An example of a self conscious person is someone who is continually checking his appearance to make sure he looks OK and doesn't have something that could embarrass him.
---
self-conscious
conscious or, esp., unduly conscious of oneself as an object of notice: a self-conscious poet
awkward or embarrassed in the presence of others; ill at ease
indicating embarrassment: a self-conscious cough

having or showing awareness of one's own existence, actions, etc.; conscious of oneself
---
self-conscious
adjective
Aware of oneself as an individual or of one's own being, actions, or thoughts.
Socially ill at ease: The self-conscious teenager sat alone during lunch.
Excessively conscious of one's appearance or manner: The self-conscious actor kept fixing his hair.
Showing the effects of self-consciousness; stilted: self-conscious prose.
Related Forms:
self′-con′scious·ly

adverb
self′-con′scious·ness

noun
---
self-conscious

Adjective
(comparative more selfconscious, superlative most selfconscious)
Alternative spelling of self-conscious.
---