noun
The definition of a gamble is a risk.

An example of a gamble is the act of betting that a certain team will win a game.
verb
Gamble is defined as to take a risk, or to play games especially with money for betting.

An example of gamble is to play the slots in Las Vegas.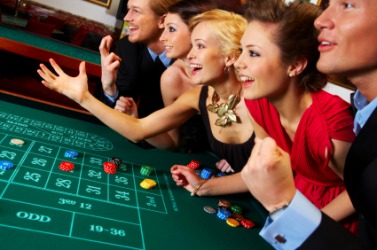 A group of people who have come to a casino to gamble.
---
gamble definition by Webster's New World
intransitive verb
gambled, gambling
to play games of chance for money or some other stake
to take a risk in order to gain some advantage
Origin: probably back-formation ; from obsolete gamler, a gambler ; from gamel, to play (altered ; from Middle English gamen, to play ; from game, game) plush -er: akin to German dialect, dialectal gammeln, to sport, make merry
transitive verb
to risk in gambling; bet; wager
noun
an act or undertaking involving risk of a loss
Webster's New World College Dictionary Copyright © 2010 by Wiley Publishing, Inc., Cleveland, Ohio. Used by arrangement with John Wiley & Sons, Inc.
---
gamble definition by American Heritage Dictionary
verb
gam·bled
,
gam·bling
,
gam·bles
verb
, intransitive
a. To bet on an uncertain outcome, as of a contest.

b. To play a game of chance for stakes.

To take a risk in the hope of gaining an advantage or a benefit.
To engage in reckless or hazardous behavior: You are gambling with your health by continuing to smoke.
verb
, transitive
To put up as a stake in gambling; wager.
To expose to hazard; risk: gambled their lives in a dangerous rescue mission.
noun
A bet, wager, or other gambling venture.
An act or undertaking of uncertain outcome; a risk: I took a gamble that stock prices would rise.
Origin: Perhaps from obsolete gamel, to play games, from Middle English gamen, gamenen, to play, from Old English gamenian, from gamen, fun.
Related Forms:
The American Heritage® Dictionary of the English Language, 4th edition Copyright © 2010 by Houghton Mifflin Harcourt Publishing Company. Published by Houghton Mifflin Harcourt Publishing Company. All rights reserved.
---
gamble - Phrases/Idioms
gamble away
to squander or lose in gambling