gamble

gam·ble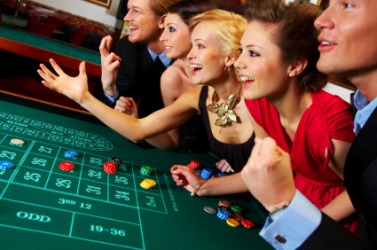 A group of people who have come to a casino to gamble.
noun
The definition of a gamble is a risk.

An example of a gamble is the act of betting that a certain team will win a game.
verb
Gamble is defined as to take a risk, or to play games especially with money for betting.

An example of gamble is to play the slots in Las Vegas.
---
gamble
intransitive verb
-·bled

,

-·bling
to play games of chance for money or some other stake
to take a risk in order to gain some advantage
Origin of gamble
probably back-formation from obsolete
gamler
, a gambler from
gamel
, to play (altered from Middle English
gamen
, to play from
game
, game) + -er: akin to German dialect, dialectal
gammeln
, to sport, make merry
to risk in gambling; bet; wager
an act or undertaking involving risk of a loss
gamble away
to squander or lose in gambling
---
gamble
verb
gam·bled, gam·bling, gam·bles
verb
intransitive
a. To bet on an uncertain outcome, as of a game or sporting event.

b. To play a game for stakes, especially a game whose outcome is at least partly determined by chance.

To take a risk in the hope of gaining an advantage or a benefit.
To engage in reckless or hazardous behavior: You are gambling with your health by continuing to smoke.
verb
transitive
To put up as a stake in gambling; wager.
To expose to hazard; risk: gambled their lives in a dangerous rescue mission.
noun
A bet, wager, or other gambling venture.
An act or undertaking of uncertain outcome; a risk: I took a gamble that stock prices would rise.
Origin of gamble
Perhaps from
obsolete
gamel
to play games
from
Middle English
gamen, gamenen
to play
from
Old English
gamenian
from
gamen
fun
Related Forms:
---
gamble

Noun
(plural gambles)
A significant risk, undertaken with a potential gain.
A risky venture

The sailors had taken many gambles with the sea and always won.
Verb
(third-person singular simple present gambles, present participle gambling, simple past and past participle gambled)
To take a risk, with the potential of a positive outcome.
To risk (something) for potential gain.

He gambled his reputation on the outcome.

To interact with equipment at a casino
Origin
From Old English gamenian 'to play', either via a dialectal survival of Middle English gammlen, a variant of gamenen 'to play, jest, be merry', or via a derivative of gamel 'to play games'
---