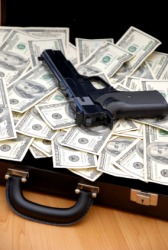 The Mafia is an example of organized crime.
noun
Organized crime is illegal behavior that is planned and carried out by groups of people in a very systematic fashion.

An example of organized crime is the activities of money laundering done by the mafia.
---
organized crime
a system or organization of people and groups engaged in criminal activities
---
organized crime
noun
Crime committed by groups engaged in planned and sustained criminal activities.
The people and the groups involved in such criminal activities.
---
organized-crime

Noun
(uncountable)
A set of large criminal organizations (often competing for markets and territories) that deal in illegal goods and services.

Organized crime is largely responsible for the nation's illicit drug trafficking.

The crimes perpetrated by those organizations.

Organized crime has dramatically increased in our neighbourhood.
---
organized crime - Legal Definition
n
A widespread group of professional criminals who rely on illegal activities as a way of life and whose activities are coordinated and controlled through some form of centralized syndicate.
---