abysmal

a·bys·mal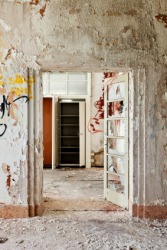 A room in abysmal contition.
adjective
The definition of abysmal is something that is extremely bad or unfathomably appalling.

An example of abysmal living conditions would be an unheated room with bugs in it.
---
abysmal
of or like an abyss; bottomless; unfathomable
wretched to the point of despair; immeasurably bad: abysmal poverty
Origin of abysmal
abysm + -al
---
abysmal
adjective
Resembling an abyss in depth; unfathomable.
Very profound; limitless: abysmal misery.
Very bad: an abysmal performance.
Related Forms:
---
abysmal

Usage notes
Nouns to which "abysmal" is often applied: ignorance, record, performance, poverty, conditions, quality, perplexity, result.
---