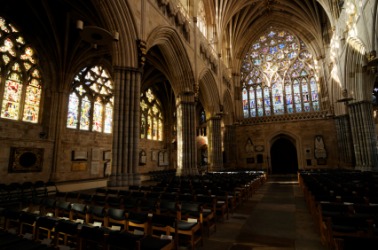 The cavernous interiior of a cathedral.
adjective
The definition of cavernous is vast or filled with caverns or cavities.

An example of something cavernous is a huge room in a mansion, a cavernous room.
---
cavernous
full of caverns
full of cavities; porous
like or characteristic of a cavern; deep-set, hollow, etc.: a cavernous voice, cavernous cheeks
Origin of cavernous
Middle English from Classical Latin
cavernosus
---
cavernous
adjective
Filled with caverns.
Resembling a cavern, as in depth, vastness, or effect: a cavernous yawn; cavernous echoes.
Anatomy Filled with cavities or hollow areas; porous.
Related Forms:
---
cavernous

---