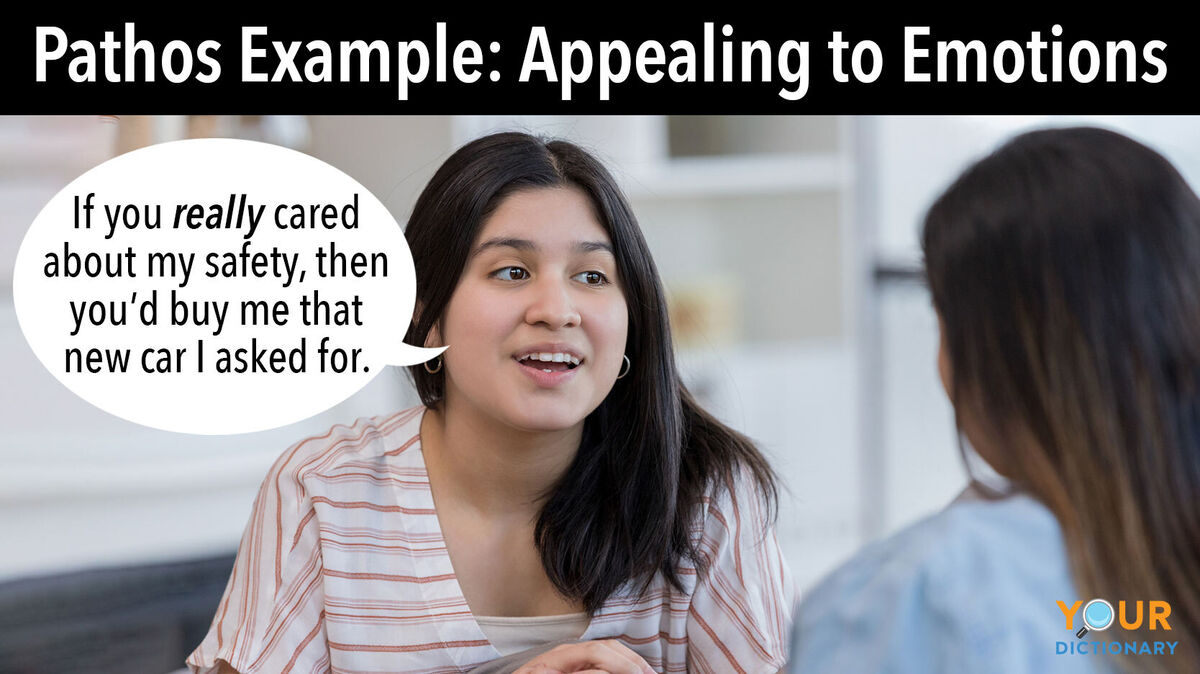 Has a book, speech or song ever made you feel a certain way, but you couldn't explain why? The writer is probably using pathos as a way to bring about feelings in their readers or listeners. But what does pathos look like in a written work? Keep reading for pathos examples in literary works, rhetorical arguments and famous music.
What is pathos? Pathos is one mode of persuasion often used when making arguments. The Greek philosopher Aristotle cites three modes of persuasion: ethos, pathos and logos. They are effective rhetorical devices that appeal to three different areas.
ethos - appeals to authority or credibility

pathos - appeals to emotion by citing tragedy or sadness

logos - appeals to facts and reason
Effective arguments use all three modes to convince their listeners. However, shorter arguments, such as advertisements or conversations, may rely more heavily on pathos than ethos or logos. Pathos encourages a person to act by evoking their feelings.
Pathos Examples in Literature
Authors often make use of pathos to evoke certain feelings from the reader. In literature, pathos is an effective literary device rather than a rhetorical device. It can establish tone or mood, and it makes audiences feel sympathetic toward different types of characters. Writers can make readers feel happy, sad, angry, passionate, or miserable with their word choice and plot development.
Greek tragedies specialized in using pathos to draw feelings from their audience. Later playwrights and writers, including William Shakespeare and Arthur Miller, used these same techniques: they hint toward a happy ending for an endearing character, then use irony to take it all away. The result is a tragic ending for character and audience alike, as a tragedy cannot create the feeling of sadness alone — it only works by bringing that feeling out in the audience.
Examples of pathos in literary tragedies include:
Authors can also use pathos in comedies to make an audience happy. They use humor to make readers laugh, happy endings to make them feel satisfied, and just a little bit of drama to make them feel worried that there won't be a happy ending (but there will be!).
Examples of pathos in comedies include:
Pathos Examples in Rhetoric
We see pathos in everyday life through rhetoric. Whether it's family, friends or advertisers, people are constantly trying to persuade you of something by appealing to your emotions. However, you can also find pathos in formal arguments, including famous speeches and political addresses.
Pathos in Everyday Rhetoric
Whenever someone tries to make you feel bad enough to do something, they're using pathos as a rhetorical tool. They can also use pathos to explain how happy they would feel if you helped them out, or how hard it will be for them if you don't.
Pathos examples in everyday life include:
A teenager tries to convince his parents to buy him a new car by saying if they cared about their child's safety they'd upgrade him.

A man at the car dealership implores the salesman to offer the best price on a new car because he needs to support his young family.

A boyfriend begs his girlfriend to stay with him, claiming "If you really love me, you'll give me time to change my ways."

A car commercial depicts a teary-eyed parent saying goodbye to their child as they go off to college, sad but assured that they're sending their child away in a reliable, safe car.

Charity organizations show images of starving orphans living in dire conditions who need your help with monthly financial support.
Pathos in Rhetorical Speeches
If a political speech has ever made you feel inspired, angry or upset, it's used pathos correctly. Politicians and activists rely on appealing to their audience's feelings to make them feel a certain way and to persuade them to do something.
Examples of pathos in rhetorical speeches include:
There's a form of expression that can make you dance until your feet ache or cry your eyes out. Music has the ability to touch our lives through a careful correlation between lyrics and instrumentals.
Take a look at a few popular examples:
Pathos is a Greek word meaning "suffering" that has long been used to relay feelings of sadness or strong emotion. It was adopted into the English language in the 16th century to describe a quality that stirs the emotions, often produced by a real-life tragedy or moving music or speech.
Pathos became the foundation for many other English words. For example:
empathy - the ability to understand and feel the emotions of others

pathology - the study of disease, which can surely cause suffering

pathetic - something that causes others to feel pity

sympathy - a shared feeling of sadness

sociopath - causing harm to society

psychopath - suffering in the mind
The next time you need to move someone out of the realm of indecision, consider what pathos can do for you. You may also want to think twice when someone tries to appeal to your emotions when convincing you to do something. Learn more about these rhetorical techniques with these examples of ethos, which appeal to a person's authority. You can also find the opposite tactic of appealing to emotions with these examples of logos, which appeal to reason and facts.