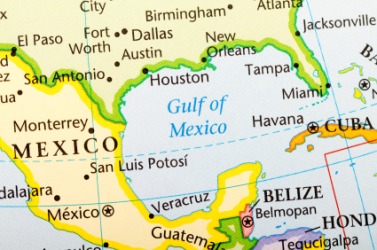 The Gulf of Mexico is an example of a gulf.
noun
The definition of a gulf is a deep ravine or a deep inlet of the sea, or big divides or large distances between people caused by their differences or lack of understanding of each other.

A deep inlet of the sea is an example of a gulf.
A situation where a parent and child cannot understand each other because of very different ideologies is an example of a situation where there is a gulf between them.
---
gulf
a large body of sea or ocean water, typically larger than a bay, that is partially enclosed by land
a wide, deep chasm or abyss
a wide or impassable gap or separation
an eddy that draws objects down; whirlpool
Origin of gulf
Middle English
goulf
from Old French
golfe
from Italian
golfo
from Late Greek
kolphos
, for Classical Greek
kolpos
, a fold, bosom, gulf, probably from Indo-European an unverified form
kwolpos
from base an unverified form
kwel-
, to turn from source German
wölben
, to arch
the Gulf
the Persian Gulf or the surrounding region
the Gulf of Mexico or the surrounding region
---
gulf
noun
Abbr. G. A large area of a sea or ocean partially enclosed by land, especially a long landlocked portion of sea opening through a strait.
A deep, wide chasm; an abyss.
A wide gap, as in understanding: "the gulf between the Victorian sensibility and our own" ( Babette Deutsch )
Something, such as a whirlpool, that draws down or engulfs.
transitive verb
gulfed, gulf·ing, gulfs
To engulf.
Origin of gulf
Middle English
goulf
from
Old French
golfe
from
Old Italian
golfo
from
Late Latin
colpus, colfus
from
Greek
kolpos
bosom, gulf
---
gulf

Noun
(plural gulfs)
(geography) A portion of an ocean or sea extending into the land; a partially landlocked sea; as, the Gulf of Mexico or Persian Gulf.
A difference, especially a large difference, between groups
---