verb
The definition of bathe means to wet your or body in water or to take a bath.

To jump in a lake and swim after a long day of hiking is an example of to bathe.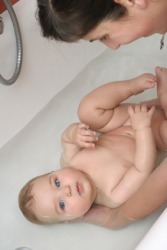 A mother about to bathe her baby.
---
bathe definition by Webster's New World
transitive verb
bathed, bathing
to put into a liquid; immerse
to give a bath to; wash
to wet or moisten: sweat bathed his brow
to cover or envelop as if with liquid: the trees are bathed in moonlight
Origin: Middle English bathen ; from Old English bathian ; from bæth, bath
intransitive verb
to take a bath; bathe oneself
to go into or be in a body of water so as to swim, cool oneself, etc.
to soak oneself in some substance or influence
noun
Brit.
a bathing in the sea, a pool, etc.; a swim
Webster's New World College Dictionary Copyright © 2010 by Wiley Publishing, Inc., Cleveland, Ohio. Used by arrangement with John Wiley & Sons, Inc.
---
bathe definition by American Heritage Dictionary
verb
bathed
bathed
,
bath·ing
,
bathes
verb
, intransitive
To take a bath.
To go into the water for swimming or other recreation.
To become immersed in or as if in liquid.
To sunbathe.
verb
, transitive
To immerse in liquid; wet.
To wash in a liquid.
To apply a liquid to for healing or soothing purposes: bathed the wound with iodine.
To seem to wash or pour over; suffuse: a room that was bathed in sunlight.
Origin: Middle English bathen, from Old English bathian.
Related Forms: