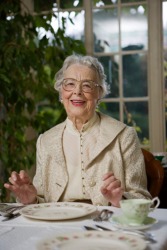 Proper table manners is a example of politeness.
noun
Politeness is defined as behaving in a socially acceptable way with proper manners and etiquette.

When you stand up to greet guests as they enter a room and you keep your elbows off the table during dinner, this is an example of politeness.
---
politeness

Noun
(usually uncountable, plural politenesses)
The quality of being polite.
---