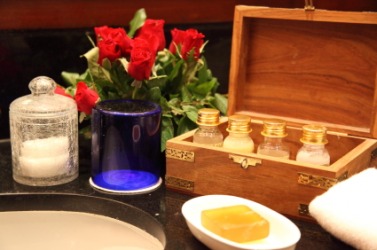 Several bathroom amenities
noun
Amenity is defined as a good sense of etiquette.

An example of something who possesses an amenity is a person who sends thank you notes for gifts she receives.

The definition of an amenity makes something more comfortable and pleasant.

An example of an amenity in a home is a screened in porch.
---
amenity
noun
pl.
-·ties
pleasant quality; attractiveness
: often used in pl.

an attractive or desirable feature, as of a particular climate or piece of real estate
anything that adds to a person's comfort; convenience

[pl.] the courteous acts and pleasant manners of polite social behavior
Origin of amenity
Middle English and Old French
amenite
from Classical Latin
amoenitas
from
amoenus
, pleasant; akin to
amare
, to love
---
amenity
noun
pl.
a·men·i·ties
The quality of being pleasant or attractive; agreeableness: "Everything in her surroundings ministered to feelings of ease and amenity" ( Edith Wharton )
Something that contributes to physical or material comfort: amenities offered by the hotel.
A feature that increases attractiveness or value, especially of a piece of real estate or a geographic location.
amenities Social courtesies.
Origin of amenity
Middle English
amenite
from
Old French
from
Latin
amoenitās
from
amoenus
pleasant
---
amenity

Noun
(plural amenities)
Pleasantness.

We especially enjoyed the amenity of the climate on our last holiday.

A thing or circumstance that is welcome and makes life a little easier or more pleasant.

All the little amenities the hotel provided made our stay very enjoyable.

(cartography) a unit pertaining to the infrastructure of a community, such as a public toilet, a postbox, a library etc.
---