boundary

bound·a·ry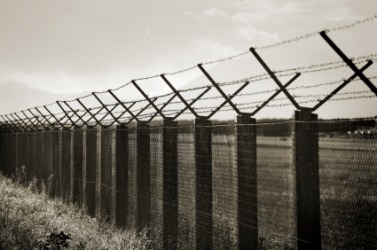 This fence forms a boundary.
noun
The definition of a boundary is a line or something else that marks a limit or border.

An example of boundary is a barbed wire fence.
---
boundary
noun
pl.
-·ries
any line or thing marking a limit; bound; border
Origin of boundary
bound + -ary
---
boundary
noun
pl.
bound·a·ries
Something that indicates a border or limit.
The border or limit so indicated.
---
boundary

Noun
(plural boundaries)
(cricket) An edge or line marking an edge of the playing field.
(cricket) An event whereby the ball is struck and either touches or passes over a boundary (with or without bouncing), usually resulting in an award of 4 (a four) or 6 (a six) runs respectively for the batting team.
Origin
Old French, from Latin
---