denomination

de·nom·i·na·tion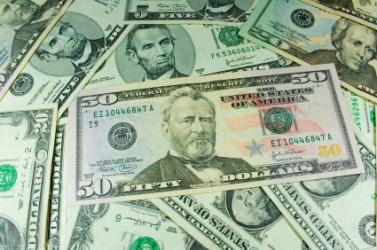 The denomination of this bill is fifty dollars.
noun
Denomination is defined as the act of categorizing or making a category, particularly of a religion.

An example of a denomination is Catholicism as a category of Christianity.
An example of a denomination is a $5 bill.
---
denomination
the act of denominating
a name; esp., the name of a class of things
a class or kind (esp. of units in a system) having a specific name or value: coins or stamps of different denominations
a particular religious body, with a specific name, organization, etc.
Origin of denomination
Middle English
denominacioun
from Old French from Classical Latin
denominatio
: see denominate
---
denomination
noun
A large group of religious congregations united under a common faith and name, usually organized under a single administrative and legal hierarchy.
One of a series of kinds, values, or sizes, as in a system of currency or weights: Cash registers have slots for bills of different denominations. The stamps come in 40¢ and 70¢ denominations.
A name or designation, especially for a class or group.
Related Forms:
de·nom′i·na′tion·al

adjective
de·nom′i·na′tion·al·ly

adverb
---
denomination

Noun
(countable and uncountable, plural denominations)
(uncountable) The act of naming or designating.
(countable) That by which anything is denominated or styled; an epithet; a name, designation, or title; especially, a general name indicating a class of like individuals; a category; as, the denomination of units, or of thousands, or of fourths, or of shillings, or of tons.
(countable) A class, or society of individuals, called by the same name; a sect or religious sub-goup; as, a religious denomination.

She follows the Ahmadiyya denomination of Islam.

(countable) A unit in a series of units of weight, money, etc
What denomination is that money? They are all 50 euro notes.
Origin
From Old French denominacion, from Latin denominatio
See also:
dénomination
---
denomination - Investment & Finance Definition
The face value of currency or securities.
---