adjective
The definition of zen is slang for feeling peaceful and relaxed.

An example of zen as an adjective is to have a zen experience, how you feel during a day at the spa.
noun
Zen is a type of Buddhism that focuses on awareness through the practice of meditation.

An example of Zen is a rock garden that is tended to meditate.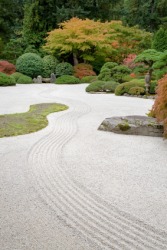 A tranquil Zen garden.
---
Zen definition by Webster's New World
noun
a variety of Buddhism, now practiced esp. in Japan, Vietnam, and Korea, seeking to attain an intuitive illumination of mind and spirit through meditation, esp. on paradoxes
the teachings and discipline of this kind of Buddhism
Origin: Japanese ; from Chinese ch'an, ultimately ; from Sanskrit dhyāna, thinking, meditation ; from Indo-European base an unverified form dhyā, to see, contemplate from source Classical Greek sēma, a sign, symbol
adjective
designating or of Zen Buddhism
Webster's New World College Dictionary Copyright © 2010 by Wiley Publishing, Inc., Cleveland, Ohio. Used by arrangement with John Wiley & Sons, Inc.
---
Zen definition by American Heritage Dictionary
noun
A school of Mahayana Buddhism that asserts that enlightenment can be attained through meditation, self-contemplation, and intuition rather than through faith and devotion and that is practiced mainly in China, Japan, Korea, and Vietnam. Also called Zen Buddhism.
Origin: Japanese zen, from Chinese (Mandarin) chán, meditation, from Pali jhānaṃ, from Sanskrit dhyānam, from dhyāti, he meditates.
Word History:
It is hard to believe that a word as Asian as
Zen
is ultimately an Indo-European word.
Zen,
which has been in English since 1727, is the Japanese pronunciation of Chinese
chán,
"quietude."
Chán
comes from Pali
jhānaṃ,
from Sanskrit
dhyānam,
"meditation," from the Sanskrit root
dhyā-, dhī-,
"to see, observe." The Indo-European root behind the Sanskrit is
*dheiə-, *dhyā-,
"to see, look at." This root also shows up in Greek, where
*dhyā-
developed into
sā-,
as in Common Greek
*sāma,
"sign, distinguishing mark." This became
sēma
in Attic Greek, the source of English
semantic.
The American Heritage® Dictionary of the English Language, 4th edition Copyright © 2010 by Houghton Mifflin Harcourt Publishing Company. Published by Houghton Mifflin Harcourt Publishing Company. All rights reserved.
---
zen - Computer Definition
---
Zen - Cultural Definition
An approach to religion, arising from Buddhism, that seeks religious enlightenment by meditation in which there is no consciousness of self.
Deliberately irrational statements are sometimes used in Zen to jar persons into realizing the limits of the common uses of the intellect. One well-known example is, "What is the sound of one hand clapping?"