zen

Zen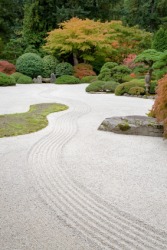 A tranquil Zen garden.
adjective
The definition of zen is slang for feeling peaceful and relaxed.

An example of zen as an adjective is to have a zen experience, how you feel during a day at the spa.
noun
Zen is a type of Buddhism that focuses on awareness through the practice of meditation.

An example of Zen is a rock garden that is tended to meditate.
---
Zen
a variety of Buddhism, now practiced esp. in Japan, Vietnam, and Korea, seeking to attain an intuitive illumination of mind and spirit through meditation, esp. on paradoxes
the teachings and discipline of this kind of Buddhism
Origin of Zen
Japanese from Chinese
ch'an,
ultimately from Sanskrit
dhy?na,
thinking, meditation from Indo-European base an unverified form
dhy?,
to see, contemplate from source Classical Greek
s?ma,
a sign, symbol
designating, of, or characteristic of Zen Buddhism
---
Zen
noun
A school of Mahayana Buddhism that asserts that enlightenment can be attained through meditation, self-contemplation, and intuition rather than through faith and devotion and that is practiced mainly in China, Japan, Korea, and Vietnam. Also called Zen Buddhism .
also zen An approach to an activity, skill, or subject that emphasizes simplicity and intuition rather than conventional thinking or fixation on goals: the zen of cooking.
Origin of Zen
Japanese
zen
from
Early Middle Chinese
d&zcurl;ian
meditation
(
also the source of
Mandarin
chán
)
from
Pali
jhāna&mlowdot;
from
Sanskrit
dhyānam
from
dhyāti
he meditates
Word History:
Zen,
a word that evokes the most characteristic and appealing aspects of Japanese culture for many English speakers, is ultimately of Indo-European origin. The Japanese word
zen
is a borrowing of a medieval Chinese word (now pronounced
chán,
in modern Mandarin Chinese) meaning "meditation, contemplation."
Chán
is one of the many Buddhist terms in Chinese that originate in India, the homeland of Buddhism. A monk named Bodhidharma, said to be of Indian origin, introduced Buddhist traditions emphasizing the practice of meditation to China in the 5th century and established Chan Buddhism. From the 7th century onward, elements of Chan Buddhism began to reach Japan, where
chán
came to be pronounced
zen.
The Chinese word
chán
is a shortening of
chán'n&acaron;
"meditation, contemplation" a borrowing of the Sanskrit term
dhyānam.
The Sanskrit word is derived from the Sanskrit root
dhyā-, dhī-,
"to see, observe," and the Indo-European root behind the Sanskrit is
*dheiə-, *dhyā-,
"to see, look at." This root also shows up in Greek, where
*dhyā-
developed into
sā-,
as in the Common Greek noun
*sāma,
"sign, distinguishing mark." This noun became
sēma
in Attic Greek and is the source of English
semantic.
---
zen

Usage notes
Often capitalized, similar to a proper noun, when talking about the denomination proper (compare Catholicism), rather than the philosophy or calm: "That's very zen." versus "She studies Zen Buddhism."
Adjective
(comparative more zen, superlative most zen)
(religion) Pertaining to this denomination of Buddhism
Origin
Japanese 禅, from (禅那 zenna; Mandarin: chánnà ), a derivation from the Sanskrit term ध्यान (dhyāna; Pāli: jhāna), which refers to a specific type or aspect of meditation.
Usage notes
Usually capitalized in all senses, almost always when talking about the denomination proper (compare Catholicism), usually but less often when referring to a looser sense of the philosophy or calm: "That's very zen." versus "She studies Zen Buddhism."
---
zen - Computer Definition
(1) A social collaboration platform. See blueKiwi ZEN.
(2) The code name for AMD's 2017 microarchitecture. See Ryzen.
(3) An open source virtual machine hypervisor. See Xen.
---