noun
The definition of a factory is where something is made or assembled.

An example of a factory is a place where cars are built.

A factory is defined as something that makes things quickly and in great quantities.

An example of factory is a child's school where germs are spread quickly, a "germ factory."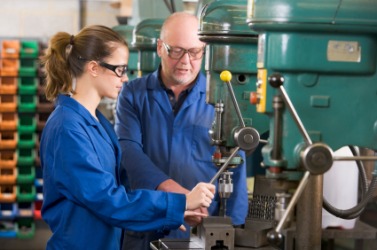 Two machinist working in a factory.
---
factory definition by Webster's New World
noun
pl.
factories
a building or buildings in which things are manufactured; manufacturing plant

Origin: < Port feitoria

a trading settlement maintained by factors
Origin: French factorie ; from facteur: see factor
Webster's New World College Dictionary Copyright © 2010 by Wiley Publishing, Inc., Cleveland, Ohio. Used by arrangement with John Wiley & Sons, Inc.
---
factory definition by American Heritage Dictionary
noun
pl.
fac·to·ries
a. A building or group of buildings in which goods are manufactured; a plant.

b. A vessel in which newly caught seafood is prepared for shipment and sale: a floating fish factory.

A business establishment for commercial agents or factors in a foreign country.
The source of prolific production: a rock group that was a hit-tune factory; a motel that served as an illegal drug factory.
Origin: Late Latin factōria, oil press, mill, and Medieval Latin factōria, establishment for factors, both from Latin factor, factor; see factor.