shop

shop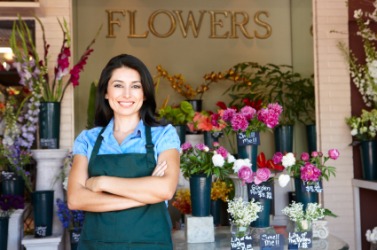 This woman works in a flower shop.
noun
The definition of a shop is a store or the work area of a person in a trade.

An example of shop is the local grocery store.
An example of shop is where the cars are fixed in an auto repair center.
verb
Shop is defined as to visit stores and buy goods.

An example of shop is to go to the mall and buy some clothing.
---
shop
a place where certain goods or services are offered for sale; esp., a small store
a specialized department in a large store: the gourmet shop

a place where a particular kind of work is done: a printing shop
in some schools, an industrial arts course, class, or department
Origin of shop
Middle English
schoppe
from Old English
sceoppa
, booth, stall, akin to German
schopf
, porch from Indo-European base an unverified form
(s)keup-
, a bundle, sheaf of straw: probably basic meaning "roof made of straw thatch"
intransitive verb
shopped

,

shop′ping
to visit a shop or shops so as to look at and buy or price things for sale
Informal

to shop at (a specified store)

Brit., Slang

to inform on, esp. to the police
to arrest or imprison

Informal

to offer for sale: often with around
set up shop
to open or start a business
shop around
to go from shop to shop, looking for bargains or special items
to search about for a good or better job, idea, etc.
shut up shop
to close a place of business, as for the night
to go out of business
---
shop
noun
also shoppe A small retail store or a specialty department in a large store.
An atelier; a studio.
A place for manufacturing or repairing goods or machinery.
A commercial or industrial establishment: a printing shop.
A business establishment; an office or a center of activity.
A home workshop.

a. A schoolroom fitted with machinery and tools for instruction in industrial arts.

b. The industrial arts as a technical science or course of study.
verb
shopped, shop·ping, shops
verb
intransitive
To visit stores in search of merchandise or bargains.
To look for something with the intention of acquiring it.
verb
transitive
To visit or buy from (a particular store).
Phrasal Verbs:
shop around
To go from store to store in search of merchandise or bargains.To look for something, such as a better job.To offer (a large block of common stock, for example) for sale to various parties:
"

[The company]

is now actively being shopped around, with a prospectus in circulation"
(
Marianne Yen
)
Origin of shop
Middle English
shoppe
from
Old English
sceoppa
treasure house
---
shop

Noun
(plural shops)
An establishment that sells goods or services to the public; originally a physical location, but now a virtual establishment as well.
An automobile mechanic's workplace.
A variety of classes taught in junior or senior high school that teach vocational skill.
(business, computing) an organisation using specified programming languages or software, often exclusively.

Our company is mostly a Java shop.

An act of shopping, especially routine shopping for food and other domestic supplies.

This is where I do my weekly shop.
Verb
(third-person singular simple present shops, present participle shopping, simple past and past participle shopped)
(intransitive) To visit shops; to look around shops with the intention of buying something.

I went shopping early, before the Christmas rush.
He's shopping for clothes.

(slang, chiefly UK) To report the criminal activities or whereabouts of someone to an authority.

He shopped his mates in to the police.

(Internet slang) Shorthand for photoshop; to digitally edit a picture or photograph.
Interjection
Used to attract the services of a shop assistant
Origin
From Middle English shoppe, from Old English sceoppa, scoppa ("shop, booth, shed"), from Proto-Germanic *skupp-, *skup- ("barn, shed"), from Proto-Indo-European *skub-, *skup- ("to bend, bow, curve, vault"). Cognate with German Schuppen ("shed"), German Schober ("barn").
---
shop - Legal Definition
n
A place of business or employment; a factory, office, or other business establishment. A shop may be open, closed, or union.
closed shop
A shop where working conditions are covered by a collective bargaining agreement between management and a labor union. Union membership is required as a condition of working there.
open shop
A shop where union membership is not a precondition of employment. Union members and nonunion members may work side by side.
union shop
A shop in which all workers are members of a union. Nonunion members may be allowed to work there, provided that they agree to join the union.
---