apartment

a·part·ment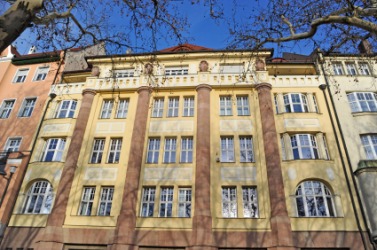 An apartment building.
noun
The definition of an apartment is a place where a person lives that may be part of a building containing other apartments.

An example of an apartment is a small group of rooms over the garage that a family rents out to their grown son.
---
apartment
a room or suite of rooms to live in; esp., one suite in an apartment house
an apartment house
Origin of apartment
French
appartement
from Italian
appartamento
from
appartare
, to separate from
a
, to +
parte
, part
of, in, or for an apartment or apartments
---
apartment
noun
A room or suite of rooms designed as a residence and generally located in a building occupied by more than one household.
An apartment building: a row of high-rise apartments.
A room.
apartments Chiefly British A suite of rooms within a larger building set aside for a particular purpose or person.
Origin of apartment
French
appartement
from
Italian
appartamento
from
appartare
to separate
from
a parte
apart
a
to
(
from
Latin
ad
; see
ad-
. )
parte
side
(
from
Latin
pars
part-
; see
part
. )
---
apartment

---