library

li·brar·y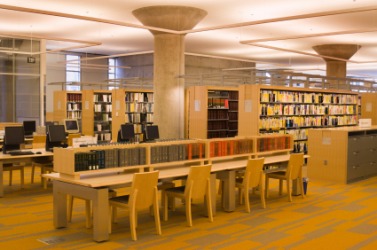 The interior of a public library.
noun
The definition of a library is a collection of books, or is a room or a building where collections of books are stored.

An example of a library is 10 mystery novels that you own.
An example of a library is a room in your house with bookshelves and lots of books.
An example of a library is a building you visit in your town where you are allowed to get a card to check out books.
---
library
noun
pl.
-·brar·ies
a collection of books, periodicals, musical scores, music and film recordings, etc., esp. a large, systematically arranged collection for reading or reference
a room or building where such a collection is kept

a public or private institution in charge of the care and circulation of such a collection
a set or series of books issued in a single format by a publishing house
any collection of things that is organized for a particular purpose: a software library
Origin of library
Middle English
librarie
from Old French from
libraire
, copyist from Classical Latin
librarius, noun ,
transcriber of books,
adj.
, of books from
liber
, a book, origin, originally inner bark or rind of a tree (which was written on) from Indo-European base an unverified form
leubh-
, to peel off from source leaf, Classical Greek
lepein
, to strip off rind
---
library
noun
pl.
li·brar·ies
a. A place in which reading materials, such as books, periodicals, and newspapers, and often other materials such as musical and video recordings, are kept for use or lending.

b. A collection of such materials, especially when systematically arranged.

c. A room in a private home for such a collection.

d. An institution or foundation maintaining such a collection.

A set of things similar to a library in appearance, function, or organization, especially:

a. A series of books issued by a publisher.

b. A collection of standard routines used in computer programs, usually stored as an executable file.

c. A collection of cloned DNA sequences whose location and identity can be established by mapping the genome of a particular organism.

d. A collection of proteins generated from the collected DNA sequences that express them, used for tracking metabolic functions of proteins in diseases such as cancer, for the synthesis of new drugs, and for other proteomics research.
Origin of library
Middle English
librarie
from
Anglo-Norman
from
Latin
librārium
bookcase
from
neuter of
librārius
of books
from
liber
libr-
inner bark of trees used as a writing material, book
---
library

Noun
(plural libraries)
An institution which holds books and/or other forms of stored information for use by the public or qualified people. It is usual, but not a defining feature of a library, for it to be housed in rooms of a building, to lend items of its collection to members either with or without payment, and to provide various other services for its community of users.
A collection of books or other forms of stored information.
An equivalent collection of analogous information in a non-printed form, e.g. record library
(computer science) A collection of software subprograms that provides functionality, to be incorporated into or used by a computer program.
Usage notes
Foreign words of similar form to library but differing in meaning include French librairie ("bookshop") ,Italian libreria ("bookshop") and Portuguese livraria ("bookshop").
Origin
Middle English librarie, from Anglo-Norman librarie, from Old French librairie, from Latin librarium ("bookcase, chest for books"), from librarius ("concerning books"), from liber ("the inner bark of trees, paper, parchment, book"), probably derived from a Proto-Indo-European base *leub(h) ("to strip, to peel"). Displaced native Middle English bochus, bochous ("library, bookhouse") (from Old English bōchÅ«s ("library, bookhouse")).
---
library - Computer Definition
(1) See Windows Libraries.
(2) Any electronic collection of files or links to files. For example, the Library in Apple's iTunes software includes music, movies, TV shows, books, apps, ringtones and Internet radio links.
(3) A collection of software routines that programmers incorporate into their applications. The library routines are linked into the program when it is compiled. See class library.
(4) In the Unix/Linux world, an executable software module that augments the operating system's functionality. The equivalent in the Windows world is called a "dynamic link library" (see DLL).
(5) A collection of offline program or data files on disk or tape. See data library.
(6) A device that manages multiple storage modules and provides one or more drives for reading and writing them. See tape library, disk library and optical disc library.
---