noun
The definition of a librarian is a person trained in library science.

An example of a librarian is the person in charge at your local public library.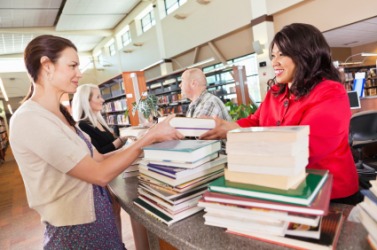 A librarian helps people check out books.
---
librarian
noun
a person in charge of a library
a library worker trained in library science
Origin of librarian
; from Classical Latin
librarius
+ -an
---
librarian
noun
A person who is a specialist in library work.
A person who is responsible for a collection of specialized or technical information or materials, such as musical scores or computer documentation.
Related Forms:
---
librarian
Noun
(plural librarians)
The keeper, manager of a library
One who cares for the publications, files etc. in a library, whether staff or volunteer
A person who processes and organizes information
---
librarian - Computer Definition
(1) A person who works in the data library and keeps track of the tapes and disks that are stored and logged out for use. Also known as a "file librarian" or "media librarian." See data library.
(2) See CA-Librarian.
---