adjective
The definition of caretaker is having power that is not permanent.

An example of caretaker used as an adjective is in the phrase "caretaker director," which means a temporary director.
noun
Caretaker is defined as a person who tends to someone or something.

An example of a caretaker is a nurse who assists the elderly.
YourDictionary definition and usage example. Copyright © 2013 by LoveToKnow Corp.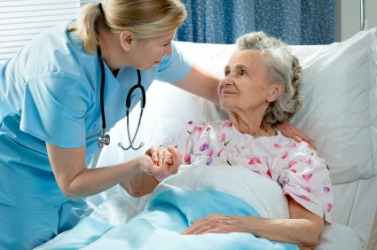 This nurse is acting as caretaker for her elderly patient.
Licensed from iStockPhoto
---
noun
a person hired to take care of something or someone, esp. of a house, estate, etc. for an owner who is not always in residence; custodian
a person temporarily carrying out the duties as of an office
a person who takes care of someone else; often, specif., caregiver
adjective
holding power temporarily; interim: a caretaker government
Webster's New World College Dictionary
Copyright © 2010 by Wiley Publishing, Inc., Cleveland, Ohio.
Used by arrangement with John Wiley & Sons, Inc.
---
noun
One that is employed to look after or take charge of goods, property, or a person; a custodian.
One that temporarily performs the duties of an office: The government resigned, but the premier served as caretaker until new leaders could be elected.
The American Heritage® Dictionary of the English Language
, 4th edition Copyright © 2010 by Houghton Mifflin Harcourt Publishing Company. Published by Houghton Mifflin Harcourt Publishing Company. All rights reserved.